Geeky Food: All about bagels, beyond the cream cheese and lox (VIDEO)
Aug 12, 2015 at 8:30 a.m. ET
Bagels — they're more than a delicious, doughy vehicle for a schmear of cream cheese and a pile of lox.
You probably haven't given much thought to the ins and outs of bagels before now. But while you plow through this morning's breakfast, we've got a little bagel education for you.
More: Paleo everything cauliflower bagels
For instance, you might think that you have New York to thank for your favorite breakfast bread — but it's actually Poland you should be tipping your hat to. That's where historians agree the first written references to bagels appear. City regulations from 1610 stated that bagels should be given to any woman after childbirth. And why not? New moms want carbs too.
Of course, New York does come into play in bagel history — it's often celebrated as having the best bagels in the world. There is a challenger out there though — but this rival city's bagels are smaller and sweeter. Sacrilege?
More: How to make New York-style bagels
Watch the video to find out which city wants to upset New York for the Best Bagel title, along with plenty of other fun facts with which to impress your fellow diners.
And if you're really feeling adventurous, there's one last thing you should see. The Mobius strip bagel, in all its glory.
Pin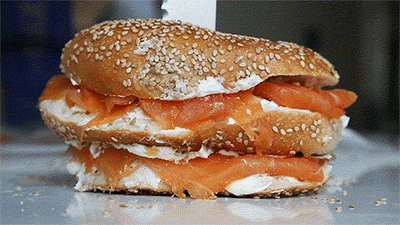 Image: Giphy
One continuous surface of bagel, perfect for getting even more cream cheese and lox in the equation. Try it... you won't be sorry.