There's a lot of meat covered in this week's Eatable News, from the unfortunately named Dausage to a pizza ringed with pigs in a blanket. Hope you came hungry…
Before you jump in, don't forget to check out what you missed last week. Did you see the Caitlyn Jenner Vanity Fair cover made out of Rice Krispies?
1. There's a thing called The Dausage
If you've been reading Eatable News for any length of time, you know I find absurdity very appealing. The more ridiculous the food mashup, the better. I can get on board with all kinds of nonsense. But The Dausage? They might have gone too far with this one. Let me tell you why. The Dausage: billed as the original doughnut-sausage hybrid. But here's the thing. There are no doughnuts involved here. If you tell me something is a doughnut hybrid, I want a damn doughnut. I have no problem with the sweet-and-savory concept of jam-filled sausage, but poking jelly into something does not make it a doughnut. Sausjelly? Jamsage?
2. Don't supersize me
Image: Mike Mozart/Flickr
In McDonald's continuing quest to revamp its brand, it's testing the opposite of the once hugely popular supersized meals in select markets. According to The Huffington Post, the new "mini meals" have a diminutive price tag — between $2.99 and $3.99 — but the calorie count ranges from 520 to 820, which, on the high end, is a fairly un-mini meal. You can try the concept with its new Signature Burger (with its two patties that seem to go against the very notion of a mini meal), a small order of fries and a small soda. Sounds like a grown-up Happy Meal, no?
3. Introducing June, the smartest oven ever
There's a new oven in town, and it's way smarter than your current oven. June Intelligent Oven is a computer-based countertop unit that "thinks like a chef." Among other really cool futuristic features, it possesses the intelligence to recognize your foods when you put them inside (thanks to its HD camera) and then offers advice to cook said food perfectly. You can order it now for $95 and pay the remaining $1,400 when it's ready in spring 2016. No, it's not cheap, but cooking like a Jetson is probably worth it.
4. Hot dogs and pizza unite for one glorious meal
Because ordering an appetizer and entrée separately is way too much work, Pizza Hut made you an all-in-one pie. As your starter, you eat the tasty little pigs in a blanket (complete with mustard dipping sauce) around the crust, then proceed to slices of pizza as your main event. Efficient and delicious. Unfortunately you will have to wait until June 18 to try the hot dog-pizza hybrid of your dreams, or you can hack the recipe and make it at home.
5. Ben & Jerry's is about to make vegans really happy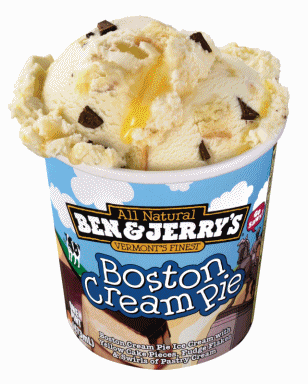 Image: Giphy
Metro.co.uk has confirmed that Ben & Jerry's is working on a dairy-free ice cream. Co-founder Jerry Greenfield told the publication, "In the US there are (dairy-free) alternatives from smaller companies but Ben & Jerry's will be first mainstream company that will do that and will also do it in a really delicious way." That sound you hear is vegans across the country rubbing their hands together in anticipation. The new product should be available in spring 2016.
6. Food mashup of the week
Image: Dude Foods
I recently made a pizza tortellini skillet, with all the flavors of your pepperoni pie combined with the carby goodness of pasta. Needless to say, it was a big winner. That leads me to believe that a crust made out of spaghetti will be my new favorite way to eat pizza.
7. Drool-worthy recipe of the week
Image: Closet Cooking
There is absolutely no need to go out to dinner when you can make this drool-worthy grilled coconut and pineapple sweet chili shrimp at home in 20 minutes. 20 minutes! Plus, no need to put pants on when you're staying home, which is always a bonus.
More food news
We tasted the new Starbucks Frappuccino flavors — here's how they rate
Dunkin' Donuts delivery means never leaving the house in pajamas again
15 Things you should never order from a chain restaurant