Perfect hollandaise sauce has never been so easy to make. This could be very bad news for my waistline.
Is there anything better than spooning rich, thick, creamy hollandaise sauce over perfectly poached eggs Benedict? I think not.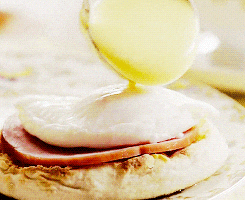 Image: Giphy
OK, maybe spooning it directly into your mouth would be better, but definitely not as socially acceptable at the brunch table.
The thing about hollandaise sauce, though, is that as wonderful as it is, it can be a pain to make. It's finicky. It breaks. It turns goopy and chunky and is the exact opposite of that smooth liquid gold pictured above.
But with the help of your blender, you're making perfect hollandaise every single time, and your brunch just got a whole lot easier. So grab another mimosa… I'm pretty sure you can handle this sauce while you're sipping the bubbly.
To round out your super-easy brunch, whip up a few of these recipes that won't keep you in the kitchen all morning. (Grab your muffin tins… you're going to need them.)
Blood orange mimosa with balsamic glaze recipe
Let's start with my favorite part of brunch — the mimosas. Sure, you can just pour some OJ into your Champagne glass, but this gorgeous blood orange version takes only 5 minutes. Worth it.
Easy green chili-bacon omelet muffins recipe
Use muffin tins to get perfectly portioned brunch bites. These egg muffins are full of spicy chilies, cheese and bacon. And bonus, you don't have to stand at the stove, making individual omelets.
Bacon, egg, cheese and hash brown muffins recipe
Get all your morning favorites in one bite. Egg, bacon and hash browns muffins are way easier than frying up everything separately.
Quick huevos rancheros breakfast muffins recipe
Another muffin tin shortcut… huevos rancheros have never been easier.
Spanish-style slow cooker breakfast frittata recipe
Use your slow cooker for the easiest frittata ever. Only 10 minutes of prep time, and you're serving this Spanish-style egg dish 2 hours later.
Savory sweet potato-goat cheese grits recipe
These creamy sweet potato grits with goat cheese take only 15 minutes. Yes, really.
Molasses and bacon skillet biscuits recipe
These sweet-and-salty skillet biscuits are a must-have on your brunch table.
One-skillet biscuits and gravy recipe
If you're looking for a rich and hearty recipe, look no further. One-skillet biscuits and gravy are all you need. And you have to wash only one pan!
Crabcake eggs Benedict recipe
I had to give you an eggs Benedict recipe to use your sauce, but disclaimer, this crabcake Benedict probably can't be classified as super easy. Swap in your quick blender hollandaise sauce for a shortcut to save a little time, though.
More delicious brunch recipes
10 Brunch recipes you can easily tackle this weekend
21 Stuffed French toast recipes you can't get enough of
15 Ways to revamp classic eggs Benedict