There's a reason a runny yolk is your one and only.
You just can't stop looking at the scintillating brunch pictures all across the Web. You can almost feel the warm yolk running down your chin. You don't need help getting excited over a perfect fried egg, but here's some food porn anyway.
1. The crispier, the better

This BLT, heaped with meaty bacon and topped with a crispy yet runny egg, is pretty much ideal. Marry me?
2. Making kale sexy

Sometimes beauty is on the outside. Sorry, kale.
3. Egg + noodles + brisket = droool
Fermented black bean noodles w beef brisket & egg at @momofuku noodle bar Toronto pic.twitter.com/BmvkAq4tiW

— Dave Chang (@davidchang) May 11, 2014

Twirling noodles cloaked in luscious, silky yolk… this meal is rated R, for sure.
4. Smothered in love
https://instagram.com/p/zc7a2ZJg6v/
Proof that a crispy fried egg can make even the humblest dish look like a supermodel.
5. Others pale in comparison
https://instagram.com/p/zjGtWIrdVu/
The color of these yolks? Perfection.
6. #Poketheyolk

C'mon… you know you want to.
7. Cleanup on aisle seven
https://instagram.com/p/ziI5NHGJkg/
Sometimes reaching yolk nirvana is messy — in the best possible way.
8. Where have you been all my life?

Nachos? Topped with a fried egg? My life will never be the same.
9. Ah, just poke it… poke it good
https://instagram.com/p/zA22zno_NO/
P-poke it reaalll good!
10. Too good to be true
https://instagram.com/p/zVB3qTPz5f/
Smashed avocado toast and a perfect runny egg? I must be dreaming.
11. The way you do the things you do
https://instagram.com/p/zPO91WQHal/
Of all the burger joints, in all the towns, in all the world… this egg runneth into mine.
12. Keepin' it classy
https://instagram.com/p/zMaPdIOtxe/
Perfectly orange yolk sliding down a pile of sweet and tender crabmeat? Put a ring on it, already.
13. It's the little things

A simple, perfect egg on homemade toast — now that's real love.
14. Things that can't be unseen
https://instagram.com/p/oD9OIzpgy5/
Just look at all that yolk…
15. Heart-meltingly delicious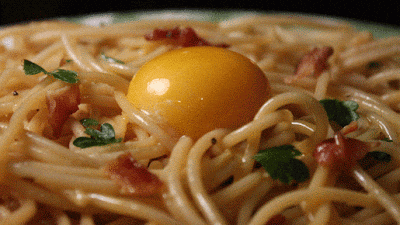 Image: Giphy
How can you watch that and not immediately run to the kitchen to make your own?
16. I don't know you, but I love you

What is this salad? I see thin-cut roasted potatoes. I see creamy dressing, bacon, cheese and tomatoes. But most important, I see a perfect, runny egg yolk crowning the entire thing.
17. Liquid gold
Try fried rice for breakfast with crispy bacon and toped with a fried egg. A Food52 Best Weekday Breakfast winner… pic.twitter.com/q1gBdogEbi

— AngieLuv Foods Photo (@LuvieAngie) January 21, 2015

Yep… I'm a gold digger.
18. I just want to take it nice and slow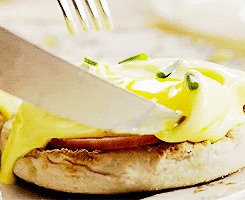 Image: Giphy
It's the slow burn, baby.
19. The stuff dreams are made of
Charred kale + sun gold tomatoes + duck fat fried egg + crispy pep it's + Cholula. http://t.co/eHUhGlL6ej pic.twitter.com/kZidZpaOee

— Kirsten Mayell (@kemayell) September 25, 2014

Did somebody say duck fat fried egg? Pinch me — I must be dreaming!
20. Hello, sunshine
Gooey goodness #helloyellow #yolkporn #breakfast #eggs #stkilda @inkmarksofsu pic.twitter.com/7p723bLEDQ

— Circa, The Prince (@CircaThePrince) October 22, 2014

There's no way this yolk won't brighten up your day.
21. Back to basics
Food pics are a habit. Delicious spam sammies w my bests this morn #yolkporn pic.twitter.com/FmsW9TOJv1

— JRG (@msjaynarose) April 1, 2014

Even a Spam sandwich looks darned good with a dripping, runny fried egg on top.
22. Bursting at the seams

You know it's going to blow — it's only a matter of time.
23. Double up

Because sometimes your eggs need to be topped with an egg.
24. The first bite
PERFECT #yolkporn pic.twitter.com/4cIRi81EzO

— Emma (@Veghead95) March 29, 2014

You know — you know — the first bite of this sandwich is going to be un-freaking-believable.
25. Thy cup runneth over

There is a really great yolk-to-white ratio on this plate right now, and I just can't look away.
More fried egg happiness
Open-faced grilled cheese sandwiches with a fried egg
Fried egg and grilled asparagus sandwich
Avocado and egg breakfast pizza