Nestle to remove artificial flavors and colors from candy (VIDEO)
Feb 19, 2015 at 12:30 p.m. ET
In what could be very bad news for my waistline, Nestle USA has announced its commitment to removing artificial colors and flavors from its candy products.
That's right... The old standby excuse that you use with the kids about not eating candy because of artificial ingredients will no longer be valid after 2015. At least not with Nestle products.
Unfortunately, that means my personal prediction for 2016 is this:
Pin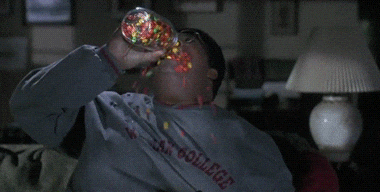 Image: Giphy
Thanks a lot, Nestle.
No, really, thank you. Here's to hoping other manufacturers follow suit so we can all feel better about eating all the candy.
More food news
Starbucks announces new menu items, subscription service — heads explode
Coffee taste test: Does the beloved Dunkin' Donuts brew hold up? (VIDEO)
Ramen pot pie is real, and you should make it immediately