Baking… It's supposed to be this relaxing, cathartic process where you get lost in the bowls and the mixing and the sugar and the endless sticks of butter and the mountains of chocolate chips. For me, it's more like this: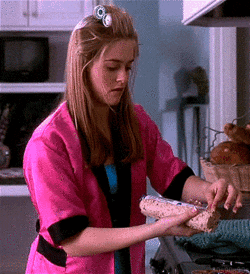 Image: Giphy
Don't like it. Never have. Don't have patience for it. Never will.
By the time I'm pulling my third sheet of cookies out of the oven, it feels like I've been stuck in one repetitive motion for hours. Oh, the monotony!
But a five-ingredient, 25-minute chocolate chip cookie recipe? That actually sounds doable. And bonus: They're dairy-free, flourless and low-sugar. I'm pretty sure that means you can eat all 2-1/2 dozen with zero guilt.
More super-easy treats
3 Dangerously easy 2-ingredient desserts
The creamiest, dreamiest, no-bake Boston cream pie layer cake
3-Ingredient Nutella cookies are the easiest dessert you'll ever make