Are you bored with your Valentine's Day routine? Sick of sitting through boring dinners?
Not to worry — there's more to Valentine's Day than a humdrum dinner for two. This year, you can feast like celebrities, shun the holiday altogether while dining in style or make your partner bark (Sex Bark, that is).
1. Five-Course Kim & Kanye-inspired Menu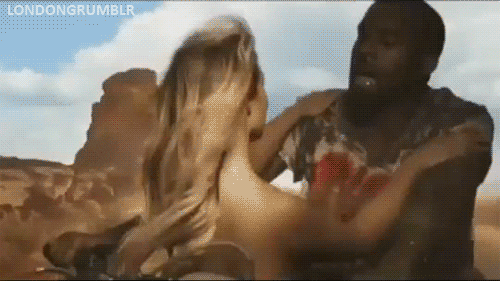 Image: Giphy
Ahem, and by "it," we mean eat, of course. Depending on who you ask, Kim and 'Ye are the most-loved or most-hated couple in America, and thanks to Brooklyn restaurant Brucie, you can finally get a literal taste of their infamy/glory. The restaurant is offering a five-course Kim menu and a five-course Kanye menu, featuring items like "Khicken Fried Rump Roast" and "Kabbage" for Kim, and an "Imma Let You Finish" dessert course featuring "Yeezecake." You can get all the details here.
2. Anti-Valentine's Day Menu for Singletons
Image: Giphy
Valentine's Day? That's for suckers. So sayeth The Daily Dish in Silver Springs, Maryland, which is offering an "anti-Valentine's Day Menu" on Feb. 14. Revel in your singledom (or disdain of what many consider to be a "made-up" holiday) while chowing down on stinky faves like olives and pickled garlic, anchovy butter crostini and blue cheese dip with garlic pita. You can wash that all down with a Raging Bitch beer from Flying Dog Brewery. See their complete menu here.
3. "Stages of a Relationship" Dinner
Image: Giphy
Want to be lectured on sex while you eat? If yes, that's weird, but also, you're in luck! Canadian restaurant The Steady is offering a five-course meal on Feb. 14 that is structured around the different stages of a relationship, from romance to struggle to bliss. While you eat, you'll be entertained by 10-minute talks on sex and relationships. See all the details here.
4. "Love Is All You Need" Beatles-inspired Menu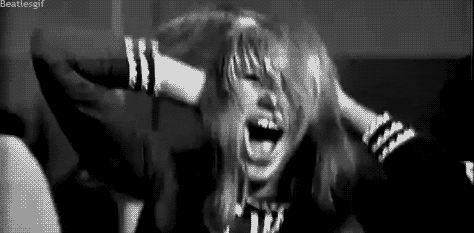 Image: Giphy
Are you or your honey a total Beatlemaniac? Lucky for you, Blakes Restaurant in the Hard Days Night Hotel in Liverpool has the perfect Valentine's Day menu for you. The "Love Is All You Need" prix fixe menu includes a variety of decadent foods, including duck confit, salt marsh lamb rump and cheesecake. Learn more about how you can become a day tripper at this restaurant here.
5. Thai Me Up: Fifty Shades of Grey Menu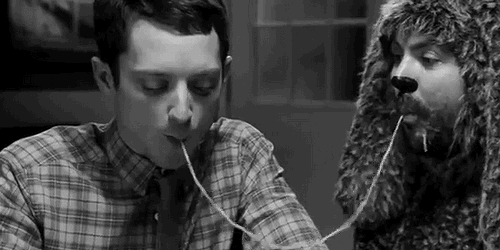 Image: Giphy
Looking for a literally and figuratively spicy meal? Head to Pakpao Thai in Dallas. They're serving a special "Thai Me Up: Fifty Shades of Grey" menu, with your option of one of two prix fixe $45 meals. Courses include "steamy" mussels, forbidden rice and a coconut-chocolate truffle with passion fruit. You can see the full menu and make reservations here.
6. Hungry Eyes: Dirty Dancing-inspired Dinner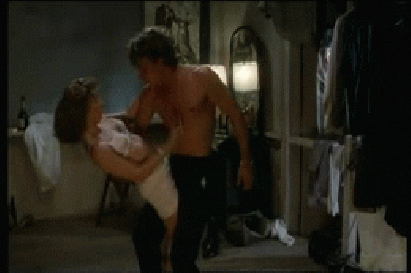 "Dancing"
Image: Giphy
The corner table by the kitchen, that is. At Leatherby's Cafe Rouge in Costa Mesa, California, you can dine on a Dirty Dancing-themed menu this Valentine's Day. Taking a cue from popular songs from the movie, courses with names like "Hungry Eyes" (short rib with potato puree, trumpet mushrooms and herb tempura) set the mood. Find out more details here.
7. Custom Valentine's Day Indian Curry Mix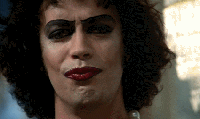 Tim Curry, also a tasty Valentine's Day treat
Image: Giphy
Can curry be romantic? According to one couple from the UK, yes. Their family business, The Twisted Chilli, has created a custom Valentine's Day Indian curry mix. Get yours here, or try one of these recipes.
8. Try Gwyneth Paltrow's Sex Bark
Image: Giphy
Fancy staying home this Valentine's Day? Hoping things will get a little… steamy? If you have an adventurous partner and a weirdly stocked kitchen, you can try out Sex Bark, Gwyneth Paltrow's remedy for all of your bedroom woes. All it takes is some ho shou wu, Sex Dust and cocoa. Enjoy at your own risk.
More Valentine's Day food
10 Luxurious edible gifts to buy your honey this Valentine's Day
10 DIY edible gifts for your valentine
5 Dark chocolate recipes that will make you swoon (VIDEO)