When you're having a bad day — and I mean a really, really bad day — there's only one thing that can fix it, besides an extra-tall glass of merlot. I'm talking about comfort food, the carby, cheesy, gooey dishes your mom used to make to help you get through a rough patch at school.
Now that we are all adults here, we know that comfort food isn't so comforting to the waistline. Sure, it is absolutely delicious and hard to resist at a family potluck, but if you want to stay lean, you're better off not keeping mashed potatoes around the house.
Or maybe that's just me.
The good news is that there is still a time and a place to load up on comfort foods without feeling terrible in the morning. These healthy versions of your favorite childhood foods will lift your spirits the next time your boss sends you a nasty email.
1. Chocolate chip cookies
Chocolate chip cookies are the perfect way to eat your feelings at the end of a long, stressful day. Just make sure you whip up a vegan batch, made with rolled oats, whole-wheat flour, tahini and olive oil.
2. French fries
Oven-baked eggplant fries are healthier than french fries any day of the week. Bonus: You can bake them at home in 12 minutes without waiting in an excruciating drive-thru line.
3. Homemade chicken soup
Chicken soup is one childhood comfort food that isn't bad for you, but this Mediterranean version made with quinoa is much, much better. Chock-full of superfoods like sweet potato, quinoa and spinach, this soup is virtually guilt-free.
4. Ice cream
Ice cream, why can't I quit you? Now I never have to give up my favorite childhood treat when I can make guilt-free frozen banana peanut butter ice cream in under five minutes.
5. Mac 'n' cheese
As delicious as it may be, the big problem with mac 'n' cheese is the cheese. This low-fat version keeps it light with whole-wheat penne, broccoli and reduced-fat evaporated milk, without sacrificing on flavor.
6. Mashed potatoes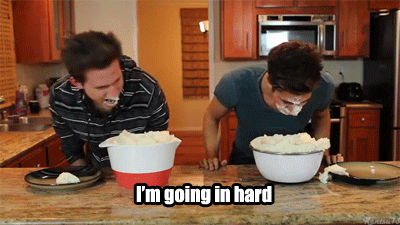 Image: Giphy
Campbell's skinny mashed potatoes are light, fluffy and surprisingly easy to make. Instead of dousing your spuds with butter and cream, mash them with organic chicken broth instead.
7. Potato chips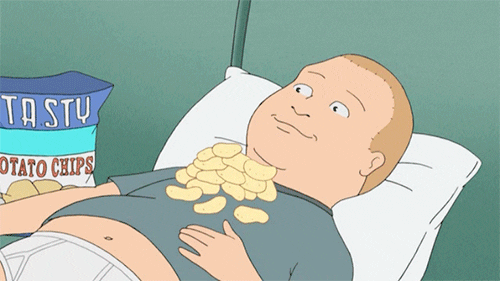 Image: Giphy
Before you hit the bag without coming up for air, give SparkPeople's healthier chips a try: Microwave herb potato chips have 64 calories and 0 grams of fat per serving.
8. Peanut butter and jelly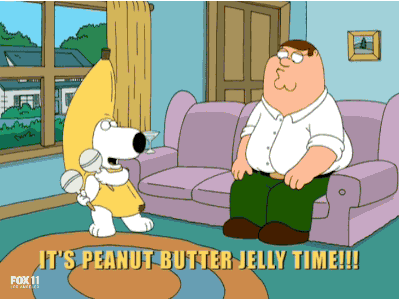 Image: Giphy
PB&J isn't necessarily bad for you, but there are a few healthy hacks to consider. Almond butter provides even more heart-healthy monounsaturated fats at 5 grams versus 3.3 grams per tablespoon; pair with natural fruit jam to cut out added sugar.
9. Pizza
According to Alton Brown of Food Network Magazine, pizza is one of the top 10 comfort foods, and I'm inclined to agree. Quinoa pizza bites taste just as good as the real thing — without the pools of grease.
10. Ramen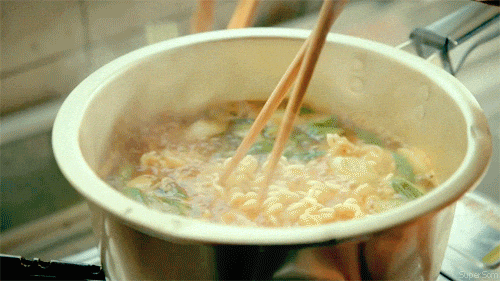 Image: Giphy
It is my own private shame that I remain obsessed with ramen noodles as a grown-ass adult. Thankfully you can health-ify this cheap soup by adding kale, mushroom and onion.
More healthy food
Meatless Monday: Creamy skillet Swiss chard and chickpeas
Golden cashewmilk is a satisfying winter drink with real health benefits
Buffalo tempeh is the perfect hot wing for vegetarians