Here are some of our favorite vegetarian and vegan meals to serve up
for all the meat-free and dairy-free friends and loved ones at your
holiday dinner table.
1. Baked "ham" — 3 recipes
Image: VeganEasy.org
Don't miss out on a traditional Christmas ham! From VeganEasy.org, you can try three vegan ham recipes, including apricot-glazed, herb-crusted and "bacon"-wrapped.
2. Meat-free glazed Christmas "ham" recipe
Image: Vegetarian Delights
For another take on vegetarian ham, this recipe includes honey mustard, parsley, pineapple slices and traditional cranberry sauce.
3. Gluten- and meat-free apricot and hazelnut "minced meat" pie recipe
Image: BBC Good Food
Despite the name, this recipe for the holiday classic, minced meat pie, is completely meat-free.
4. Seitan "turkey" roast recipe
Image: My Vegan Cookbook
Get your carving knife ready: This seitan-based vegan "turkey" recipe contains a sizable 15 grams of protein and a paltry 121 calories a slice, which means more room for stuffing and potatoes for you and your guests.
5. Apricot and hazelnut stuffing recipe
Image: BBC Good Food
More than just stuffing, this apricot and hazelnut stuffing recipe will yield breaded balls of fruity, nutty goodness!
6. Gluten-free quinoa stuffing recipe
Image: In Sonnet's Kitchen
Tired of the same old stuffing? Try this quinoa-based stuffing recipe for a new taste this Christmas.
7. Vegan mushroom gravy recipe
Image: Chow
Vegetarians, it's all gravy. Thanks to this porcini and cremini mushroom-based recipe, you'll never have to skip dowsing your taters, stuffing, biscuits or whatever else you're having with gravy.
8. Quinoa with cauliflower, cranberries and nuts recipe
Image: VegKitchen
Decorate your holiday dinner table with this red and green veggie-loaded pilaf.
9. Vegetarian zucchini quiche recipe
The colors of the holiday come to life in this vegetarian zucchini quiche that'll take less than an hour to make.
10. Gourmet mashed potato recipes
Show off your culinary prowess when you whip up one of these decadent gourmet mashed potato dishes with ease.
11. Slow-roasted "pork" with coconut-curry sauce recipe
Image: The Vegan Cookbook Aficionado
For a main course with a little kick, try out this slow-roasted vegetarian "pork" with coconut-curry sauce, corn tortillas and fresh tomato salsa over basmati rice.
12. White bean and sun-dried tomato pâté recipe
Image: VegKitchen
With this white bean-based dip, vegetarians can have their pâté and eat it too. This recipe's a great way to get some extra protein into what may otherwise become a very carbalicious Christmas dinner.
13. Sweet potato casserole with a crunchy nut crumble recipe
Image: Oh She Glows
Sweet potatoes, maple, cinnamon, nutmeg and pecans… These are a few of our favorite holiday eats, combined to perfection for a vegan and gluten-free sweet potato casserole that's sure to knock your festive socks off.
14. Savory potato gratin with rosemary crust recipe
Craving a savory pie? For your Christmastime comfort food fix, try our potato gratin with a rosemary crust recipe.
15. Smoky and spicy nut, sesame and coconut "bacon" bar nuts recipe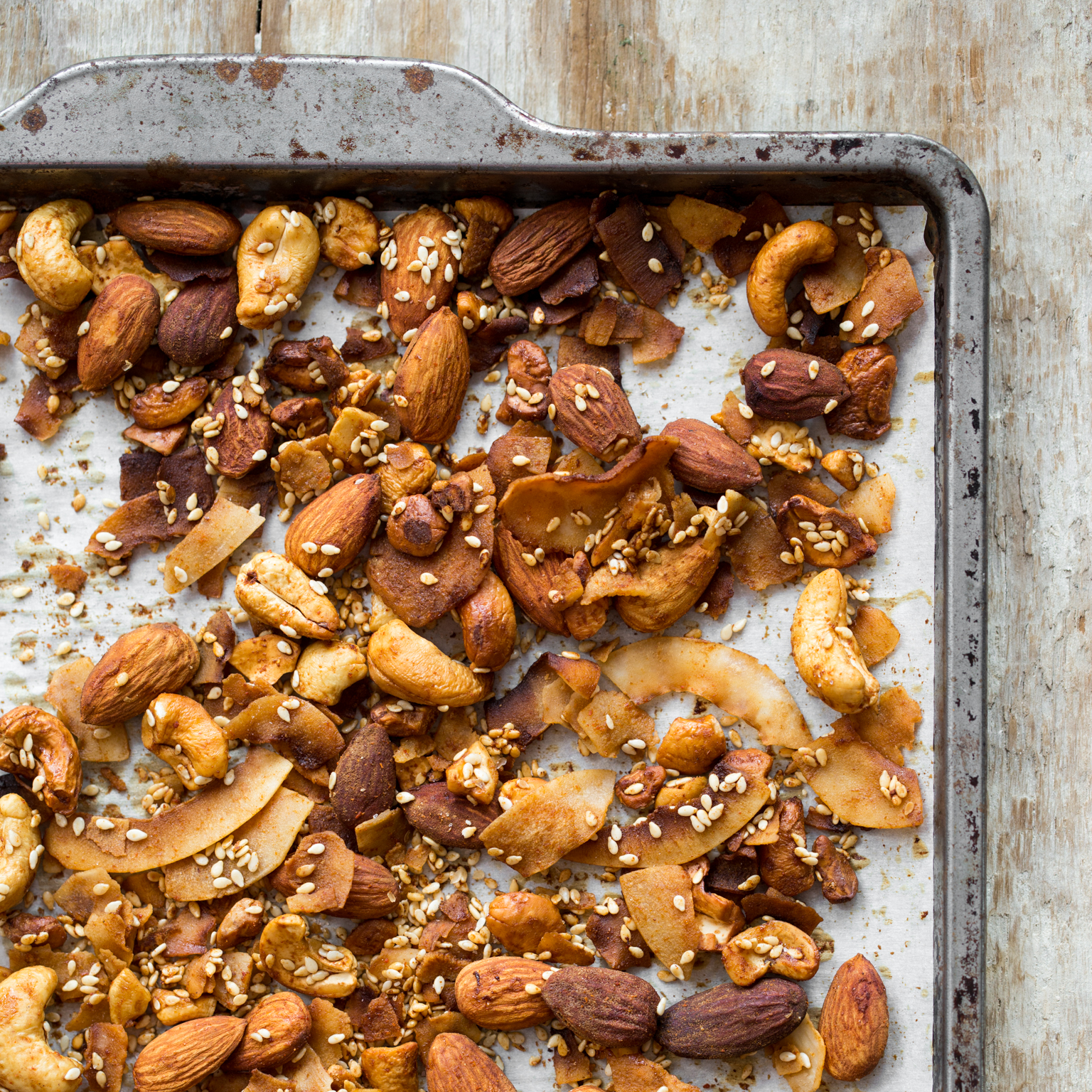 Image: Oh She Glows
Our gift to you this holiday season: a filling snack that packs the flavor of bacon (without including meat) and coconut and takes less than half an hour to make.
16. 5-Minute vegan hot cocoa recipe
Image: Minimalist Baker
The presents have been opened, and everyone's feeling pleasantly satisfied, but there's just a little room for something sweet. In less time than it takes you to remember all the words to "The Twelve Days of Christmas," you can prepare and serve steaming vegan hot cocoa and find a fire to curl up next to.
17. Vegan eggnog recipe
Image: The Roasted Root
The secret of the perfect holiday drink, vegan eggnog, is found in this cashew and coconut milk combo.
18. Chocolate-almond bûche de Noël recipe
Image: Vegetarian Times
This French favorite will become the sweet, delectable centerpiece at your holiday table. Learn how to prepare a Yule log dessert this Christmas.
19. Vegan double chocolate fudge recipe
Image: Veganbaking.net
Double chocolate and vegan? A very merry Christmas indeed! All your guests will be jolly when they try your vegan fudge.
20. Dark chocolate-peppermint truffles recipe
Image: Free People Blog
Top off your healthy vegetarian or vegan Christmas meal with a bite-size indulgence: vegan and gluten-free dark chocolate-peppermint truffles. Guilt not included.
21. Macadamia nut cheese recipe
Every holiday table needs a cheese ball, right? For a vegan alternative, this macadamia nut cheese is the perfect option.
More festive Christmas ideas
Festive Christmas cocktails
Easy holiday centerpieces
Dazzling Christmas table decorations