Chris Hemsworth is People's Sexiest Man Alive for 2014, and past recipients of the honor are pretty hot too. But while these dudes may be totally sexy, at the end of the day it's the taco that always gets the girl.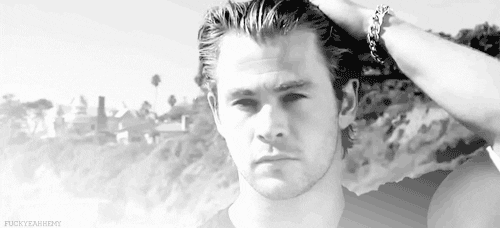 GIF credit: Giphy
Whether you fall for surfer bro fish tacos or the classic appeal of carnitas, you can rest assured that there's a taco (OK, and a guy!) out there for you.
1. Chris Hemsworth (Sexiest Man Alive, 2014)
An uncommonly delicious man like Chris Hemsworth may seem perfect, but nothing can best an uncommonly delicious taco — we're talking chili-orange salmon tacos with avocado coleslaw, baby. I'm getting excited just thinking about wrapping my hands around that full tortilla!
2. Adam Levine (2013)
Adam Levine's mostly vegan/vegetarian diet has done wonders for his physique, but these sexy, spicy, sweet potato tacos make me hit a high note I don't think the Maroon 5 frontman could ever achieve.
3. Channing Tatum (2012)
Channing Tatum is a real beefcake, but it's these five meaty taco recipes that I think will really satisfy me.
4. Bradley Cooper (2011)
Bradley Cooper may be smolderingly sexy, but when it comes to low and slow, nothing builds up my appetite more than these tender, juicy, chipotle pork tacos.
5. Ryan Reynolds (2010)
Ryan Reynolds is definitely going to be one hot DILF, but the hot and spicy avocado-mango salsa in these grilled pork soft tacos is what really has me drooling.
6. Johnny Depp (2009)
Johnny Depp has a certain brooding hotness, but he can't compete with the dark, complex flavors in these spicy portobello mushroom tacos.
7. Hugh Jackman (2008)
I wouldn't have believed it was possible, but I think these decadent fried avocado tacos bring out the wolf in me even more than vegetarian sex symbol Hugh Jackman.
8. Matt Damon (2007)
I like a man who can mix things up. Matt Damon has starred in comedies, action films and dramas, but even this sexy stud can't beat the ultimate in fusion — sweet, savory and tangy Korean street tacos.
9. George Clooney (2006)
George Clooney's classic sex appeal is unmatched by all but the alarmingly delicious, classic flavors of these pork carnitas tacos. Can you say "yum"?
10. Matthew McConaughey (2005)
These zesty grilled fish tacos with creamy lime dressing taste even better than sexy surfer bro Matthew McConaughey looks.
11. Jude Law (2004)
It should be against the law to be as handsome as Jude Law is, but TBH, the only thing I'd let myself get cuffed for is trying to get my hands on these devilishly good-looking street-style tacos. Guilty as charged!
More sexy foods
5 Vegan aphrodisiac foods
Aphrodisiacs: The skinny on the facts
5 Foods to increase your libido