I have a confession to make: I would, without hesitation, eat a Kid Cuisine for dinner if one appeared in front of me today. And after seeing these taste testers rave about the frozen dinner from my childhood, I'm not one bit embarrassed to admit that.
While most adults probably wouldn't consider watery corn, fun-shaped (whatever shape that is) nuggets and an undefinable (but so chocolaty) brownie dessert a gourmet meal, I'd bet the mac 'n' cheese from my Kid Cuisine (obviously the best part) that if they're 25 to 35, then they wouldn't hate it. The nostalgia alone is worth some taste points, right?
Take a trip down memory lane, and revisit some of your beloved foods from the '90s. You might be surprised how well most of these favorites fared among taste testers. Warning: It could prompt a grocery store run for Push Pops and cans of Beefaroni. Because "Thank goodness for Chef Boyardee!" amirite?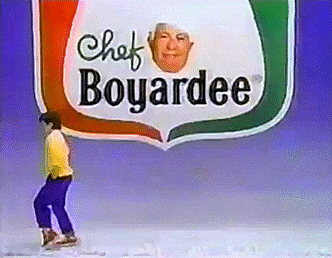 GIF credit: Giphy
Which snack from your childhood do you crave the most?
More food fads
11 Nostalgic foods we want back
Food trends from decade to decade
15 Food trends that have been pinned to death