When you're a vegetarian, any family event is awkward to say the least — and Thanksgiving might be the roughest holiday gathering of them all. Between every single relative challenging your reasons for not eating meat and the lack of food options, well, it's enough to make you just want to stay home. But don't resign yourself to nibbling celery and guzzling vegan wine in the corner just yet.
Thankfully, we've been gifted with lots of recipes that feel hearty and traditional without the meat. And these meat-free and dairy-free recipes are so awesome, even non-vegetarian guests will gobble them up.
Here are some veg alternatives to add to your menu this year.
More: 20 No-Bake Vegan Thanksgiving Desserts That Make a Meat-Free Holiday Amazing
1. Tofurky roast with vegetables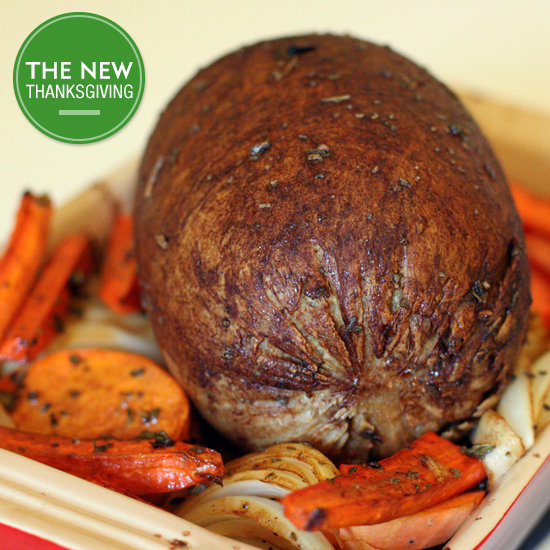 Served with carrots and yams, this main course takes a paltry one and a half hours to cook compared with the traditional big turkey of the table. The Popsugar staff omnivores prepared, taste tested and reviewed this tofurky roast with vegetables recipe.
2. Root vegetable baked lasagna
Prepare a delicious combination of ricotta cheese, garlic, parsnips, turnips and cinnamon for a quintessentially fall meal of root vegetable baked lasagna.
3. Vegan ratatouille with tempeh
Buck tradition in taste and style with vegan ratatouille with tempeh as the main course on the menu, and your table will be the very picture of autumn with the reds, oranges, greens and yellows of all the roasted veggies of this dish.
4. Roasted red beet hummus recipe
You've had your share of chickpea-, black bean- and white bean-based hummus. Now Thanksgiving is the perfect time to give roasted red beet hummus a try.
5. Quinoa-stuffed acorn squash rings
Served with cranberries and maple syrup, these quinoa-stuffed acorn squash rings might just put your average Thanksgiving sides and regular onion rings to shame.
6. Vegetable arty tart
This vegetable arty tart can double as your Thanksgiving centerpiece.
More: Vegan Overnight French Toast That'll End All Your Breakfast Struggles
7. Butternut squash, kale and crunchy pepitas taco
Why not celebrate America's original feast with fall squash and kale-based tacos?
8. Mushroom and leek cornbread stuffing
Traditional stuffing, who needs it? Try this mushroom and leek cornbread stuffing recipe — your gluten-free and vegan guests will thank you.
9. Homemade pumpkin ricotta ravioli with brown butter walnut sauce
Pumpkin can take center stage on the dinner table this year when you serve this delish homemade pumpkin ricotta ravioli with brown butter walnut sauce.
10. Olive oil and garlic green beans with crumbled blue cheese
Who says Thanksgiving sides have to be boring? Opt for healthy, gourmet and easy-to-prepare with these olive oil and garlic green beans with crumbled blue cheese.
11. Vegetarian and sausage gravy and biscuits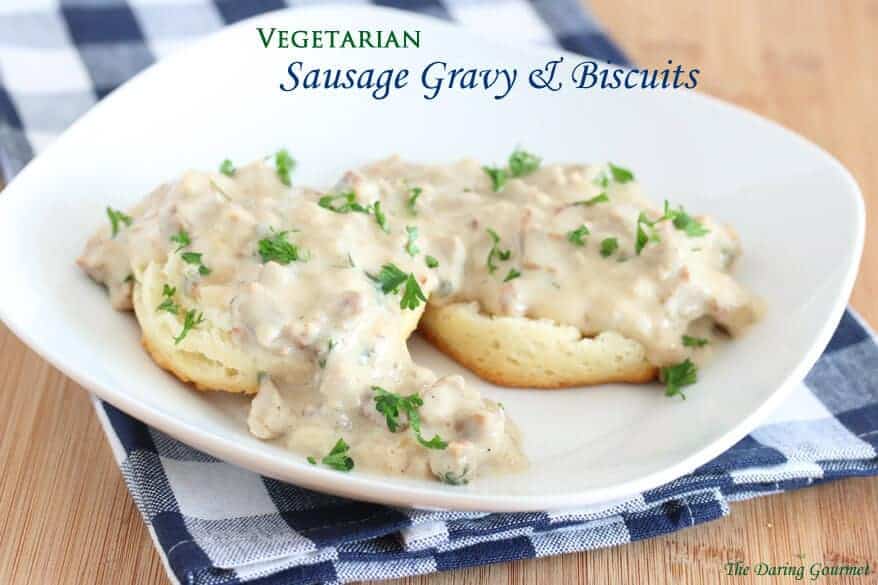 Now your veggie guests don't have to miss out on a classic: biscuits and gravy!
12. Pumpkin curry with chickpeas
You might not find this on any other Thanksgiving menu, but that doesn't mean your dinner guests won't love this hearty, savory, pumpkin-based dish!
13. Butternut squash chipotle chili with avocado
The colors and flavors of fall combine for this Mexican- and autumn-inspired butternut squash chipotle chili recipe.
14. Maple-apple cider tofu with stuffing and apple-cranberry chutney
Moist, mouthwatering stuffing that's vegan-friendly? What's not to like about this maple-apple cider tofu with stuffing and apple-cranberry chutney recipe?
15. Butternut squash croquettes
Cinnamon, olive oil, salt and pepper combine for the perfect sweet and savory Thanksgiving side dish.
16. Vegetarian quinoa chili
Packed with veggies and black and red kidney beans, this vegetarian and gluten-free quinoa chili recipe may be the most filling and sought-after side on your holiday dinner table.
17. Shaved Parmesan and truffle mashed potatoes
Topped with sautéed wild mushrooms? Yes, please! Never ordinary in the kitchen? Try this shaved Parmesan and truffle mashed potatoes recipe.
18. Baked apple stuffed with candied ginger and almonds
You've perfected apple pie recipes, but what about baked apple? Obviously you must try it paired with wine.
19. Vegan cranberry coffee cake
Thanksgiving is truly the holiday of the cranberry, so why not celebrate the berry by making it the star of the dessert menu with this vegan cranberry coffee cake recipe?
More: The Complete Guide to Stocking a Low-Carb, Vegetarian Kitchen
20. Vegan pumpkin spice scone with vanilla bean cream cheese frosting
It's not just your guests who deserve to try these pretty scones — you do too! And yes, the cream cheese frosting is really vegan.