Opting to eat meat- or dairy-free doesn't have to mean missing out on classic comfort foods, thanks to so many creative, healthy and veg alternatives to favorites like burgers, meatballs, chili, fried chicken, pepperoni pizza and more.
Craving something starchy, greasy, savory, fried or filling and want it to be vegetarian or vegan? No problem. Thanks to ingenious food hacks using healthy, protein-packed staples like mushrooms, black beans, quinoa, chickpeas, lentils, tofu, seitan and nuts, you can load up on meat- and dairy-free versions of every classic comfort food dish, from fried chicken, Philly cheesesteaks and sloppy Joes to biscuits and gravy, pot roast and meatloaf. And yes, all these recipes really are veg-friendly.
1. Homemade white bean veggie burgers recipe
No need to buy frozen veggie burgers at the grocery store ever again. You won't want to. With this vegetarian burger recipe, you'll have 12 patties to serve and eat right away or easily freeze for a later meal.
2. Creamy cashew veggie pot pie recipe
Credit: HealthyHappyLife

Pot pies manage to pack so many textures and sensations into one potent dish: warm, flaky layers and creamy, filling insides. And this vegan pot pie recipe is no different. What's not to love?
3. Vegetarian pumpkin chili recipe
Credit: the kitchn
Sure to be a fall favorite, this vegetarian chili recipe, seasoned with cinnamon, cumin and garlic, is loaded with the good stuff: pumpkin, chili beans, chilies, corn, peppers and more.
4. Tomato, walnut and basil pasta recipe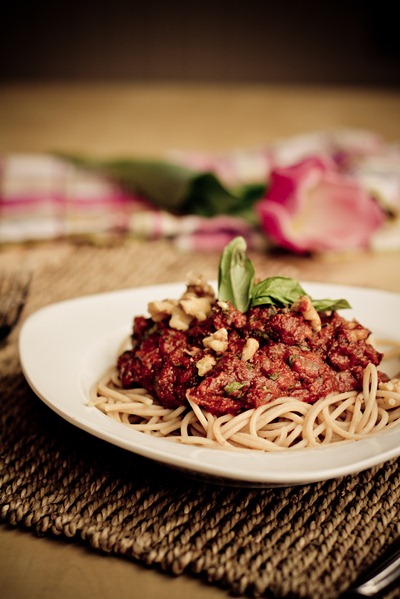 Credit: Oh She Glows
Give in to your cravings for fully loaded pasta with this tomato, walnut and basil pasta. It's protein-packed and vegan too.
5. Vegan sloppy Joes recipe
Credit: The Pampered Vegan
The secret to this vegan sloppy Joes recipe? Walnuts, quinoa, black beans and pure maple syrup (yes, please), with seasonings like paprika and tamari.
6. Vegan fried chicken recipe
Credit: Hell Yeah It's Vegan!
Crispy, crunchy chicken may be one of the hardest things to give up if you're opting to go meat-free. Thanks to this vegan fried chicken, not so!
7. Vegetarian French onion soup recipe
As with any soup, ordering French onion soup off a menu at a restaurant is always hit or miss as a vegetarian. You may never know what stock or ingredients were used. With this vegetarian French onion soup recipe, make it at home, and indulge without any doubts.
8. Vegetarian slow cooker pot roast recipe

Credit: Tried & True
This is no mystery meat! The next time you want a hearty dinner with little prep required, try this seitan-based vegetarian slow cooker pot roast recipe.
9. Biscuits and vegetarian gravy recipe
Credit: Oh My Veggies
There's almost nothing better than Southern comfort food, and within this culinary category, biscuits and gravy are almost certainly at the top of the list. Mushrooms and vegan Worcestershire sauce are at the heart of this biscuits and veggie gravy recipe.
10. Vegan mac and cheese recipe
Our vegan mac and cheese recipe is proof you can go vegan and still enjoy the ultimate comfort food: mac and cheese! The secret's in the cashew-chickpea-chipotle-based sauce.
11. Vegetarian pho recipe
Credit: Kitchen Treaty
What could be more soothing than this veggie- and rice-packed, broth-based dish? While vegetarian pho is hard to come by in restaurants, it's easy to make at home.
12. Vegan Philly cheesesteaks recipe
Credit: HealthyHappyLife

Step aside, veggie BLTs. You may have just been replaced by the top meat-free alternative to a classic sandwich. Go ahead: You know you want to try the vegan Philly cheesesteak.
13. Vegetable lentil loaf recipe
Credit: The Simple Veganista
Not your grandma's meatloaf, you and your dinner guests will want a second serving of this glazed vegetable lentil loaf and can do so without loosening any belts.
14. Vegetarian lentil meatballs recipe
Who says vegetarian food isn't filling? Feed your dinner companions these lentil-based meatballs, and they'll want a heaping helping. And they can have it, without the guilt that often accompanies gorging on traditional meatballs.
15. Vegetarian chicken noodle soup recipe
Credit: Oh My Veggies
Nothing says "feel better" like chicken noodle soup, and why should an under-the-weather vegetarian be left in the cold? Serve this vegetarian chicken noodle soup recipe the next time your veg friend or loved one isn't feeling so hot.
16. Vegetarian hot pot recipe
Credit: Just One Cookbook
Hot pot is simple to make and takes little time but isn't always vegetarian-friendly. Enter the Japanese variation, vegetarian hot tofu, served with a soy and sake sauce and topped with ginger, scallions and other seasonings, which you can get ready in five minutes and cooks in just 15.
17. Vegetarian stroganoff recipe
Credit: skinnytaste.com
Mushroom lovers, this vegetarian stroganoff recipe combines shiitake, baby portabello and cremini mushrooms in one delightful dish and has nearly 13 grams of protein for just 268 calories.
18. Deep-dish vegan pepperoni pizza recipe
Credit: Namely Marly
Get your greasy food fix with this deep-dish vegan pepperoni pizza topped with vegan cheese and pepperonis.
19. Vegetarian paella recipe
Our vegetarian paella recipe substitutes this entree's typical meat or seafood protein base with chickpeas and veggies.
20. Vegan cheesecake recipe
Credit: Minimalist Baker
No list of vegan and vegetarian comfort food recipes would be complete without dessert. For those with a sweet tooth and a dairy-free or gluten-free diet, you must try these vegan cheesecakes.
More vegetarian dishes
Moroccan chowder
Rustic fall vegetable galette
Creamy borscht with cucumber-dill sour cream