Few Americans truly understand the struggles that the U.S. military faces in Afghanistan and the frustrations of the Afghans who often see the U.S. presence as yet another invasion. Saima Wahab's memoir, In My Father's Country, is an enlightening look into this ongoing conflict.
Saima Wahab was just a child when her father was taken away in broad daylight — likely sold out to the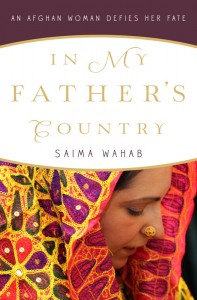 Soviets by his neighbors — never to return again. Although Saima and her two siblings had an amazing father figure in their Baba (grandfather), they grew up among flying bullets, mortar shells and constant danger.
When Saima was 15, two uncles from Portland, Oregon, sponsored her, her brother, her sister and three other cousins to come to the U.S. Saima's father, and later her grandfather, always told her that she was destined for something greater than the typical life of an Afghani woman, and she saw the move to the U.S. as a step towards that destiny. However, while her surroundings were different, her uncles' antiquated beliefs were not — while her brother and male cousins were allowed to do what they pleased, the girls were watched at every step. Saima eventually rebelled and struck out on her own, and was disowned by many of her family members both in the U.S. and Afghanistan.
In 2004, with a bachelor's degree under her belt, Saima decided to return to Afghanistan as an interpreter and try to fulfill the destiny her father had in mind for her. He knew the risks but openly spoke out against the Soviet invasion, and Saima thought that if she could help her people in some way, she could also understand his devotion to the country.
At the time of her arrival, Saima was the only college-educated female Pashto interpreter. She was also one of the very few females, American or Afghani, allowed into meetings with high ranking officials on both sides. Many interpreters claimed to know Pashto, but really spoke Farsi, only contributing to the misunderstandings between the U.S. soldiers and the Pashtun, who make up 40 percent of the population.
As a native of Afghanistan, Saima had the unique opportunity to bridge the gaps between the proud Pashtun and the soldiers who were often bewildered by their new surroundings. For example, few Americans on the ground knew of Pashtunwali, a way of life that extends to how Afghans treat their guests, their women and each other. Saima believed that winning the hearts of Afghans was just as important as military power, and she worked tirelessly to improve the relations between the two groups.
Even as an interpreter, Saima was always risking her life, and we applaud her courage and her willingness to share her experiences in In My Father's Country. She may have started her journey hoping to learn more about her own roots, but the resulting book will bring a greater understanding of Afghanistan to many readers.
More reading
Must-read: All Woman and Springtime by Brandon W. Jones
Must-read: A Wedding in Haiti by Julia Alvarez
What is author Sarah Pekkanen reading?