Angela Davis-Gardner's Butterfly's Child is a tale of love gone wrong, and of an innocent child caught up in the thoughtless actions of adults around him.
If you're familiar with Madame Butterfly, the opera, or the short story by John Luther Long that inspired it, you'll savor Butterfly's Child — a continuation to this dramatic story. And even if you've never heard of Madame Butterfly, you won't miss a beat as you enjoy Angela Davis-Gardner's masterful storytelling.
Three-year-old Benji is the product of a love affair between a geisha, Cio-Cio (Butterfly), and a U.S. Naval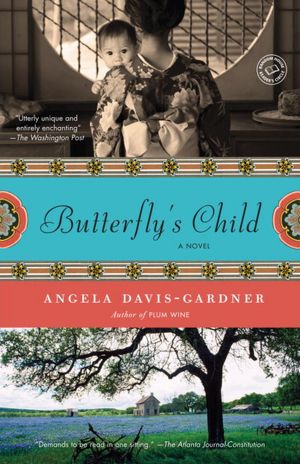 Officer, Frank Pinkerton. Benji has never met his father since Pinkerton left Japan before his birth and is not even aware of his existence. When Pinkerton finally returns to Nagasaki, after a three-year absence, Benji is taken away from everything and everyone he has ever known — bound for the U.S. with Pinkerton and his young American wife, Kate.
The couple lives on a farm in rural Illinois and to save themselves the embarrassment, they tell everyone that Benji is an orphan they found on their trip — albeit a blonde one with a resemblance to Frank. As he grows up, Benji struggles to adapt to his new surroundings and to find acceptance, not only with his peers, but even within his own adopted family. When the secret behind his lineage is finally brought to light, it rocks the already dysfunctional family. Luckily, it also affords Benji the trip he has dreamed of since he was brought to the U.S. — one that takes him back to Nagasaki.
Just like Madame Butterfly before it, Butterfly's Child is a tragic tale… but one that will keep you turning pages in hopes of a better future for Benji. It's a tale of love gone wrong and of an innocent child caught up in the thoughtless actions of adults around him. Pinkerton was a young man on the prowl when he met Cio-Cio and was thrust into fatherhood when he least expected it. Kate is longing to have a child of her own and is forced to care for a young boy who only reminds her of her husband's big love. And while most adults (Pinkerton, his mother and Kate) are at times very unlikable, Davis-Gardner's skillful writing makes it easy to see through their perspective.
More reading
Sarah Pekkanen talks These Girls
Book trailer of the week: Save Me
Red hot memoir of the month: Let's Pretend this Never Happened