You can't very well celebrate National Awkward Moments Day without a nod to the queen of awkward faces, Chrissy Teigen. Let's be real, after all — the woman is a treasure to the meme world. The 34-year-old model, TV show host and cookbook book author is forever making weird facial expressions. And, accordingly, they're nearly always captured on camera and shared in perpetuity on social media.
What's so wonderful about Teigen's funny facial expressions going viral, though, is that people share them because they relate to them. It's impossible not to see Teigen's classic cringe face and imagine a time when you've had the same one (well, maybe not exactly the same, but the general sentiment was there). Teigen's facial expressions are basically like a barometer for how the rest of us are feeling at any given moment.
And so, on this National Awkward Moments Day, let us pay tribute to the one paving the way for the rest of us. May we all learn to let our guards down, lean into whatever we're feeling and let it show all over our faces. Because, c'mon: Teigen might be the only one going viral for her quirky looks, but it's only because the rest of us don't have paparazzi waiting to immortalize ours.
To Teigen!
The Crying Face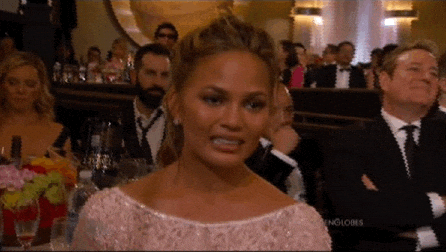 Remember this one? In 2015, Teigen's husband John Legend and rapper Common received a Golden Globe for Best Original Song for "Glory" from the Selma soundtrack. And when Legend gave his acceptance speech, Teigen just couldn't keep it together. 'Twas the face that started it all. In 2018, she joked of the moment to Jimmy Fallon, "There's a lot of things happening here, Jimmy. And also red wine, but also a flood of emotions for my husband's award."
The Freaked-Out Face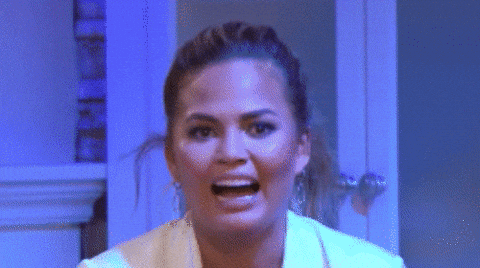 During an appearance on The Meredith Vieira Show, Teigen looked equal parts freaked out and, well, hilarious.
The Yikes Face
Chrissy Teigen spoke for all of us with her cringe face during Stacy Dash's Oscar moment. #thankyou #Oscars pic.twitter.com/MdKIqYTAEB

— Nikki Balch (@NikkiBOnAir) February 29, 2016
If you're looking for the most meme'd facial expression Teigen has blessed us all with, it could very well be her infamous cringe face. During the 2016 Oscars, Teigen's face became the human embodiment of the word "yikes" after Stacey Dash made an off-color joke. Shortly after the moment launched roughly one zillion memes and photoshopped images, Teigen deadpanned, "No I am not good at poker."
The Yuck Face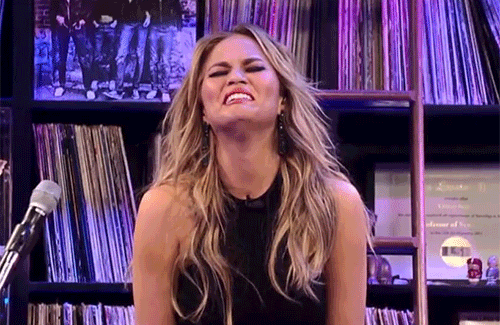 Teigen being a co-host on The Lip Sync Battle is a seemingly endless font of GIF-ts (see what we did there). Her yuck face may be a little awkward, but it might just be the most relatable one she has.
The Non-Face Face
this is a setup https://t.co/4lmW4i85uG

— christine teigen (@chrissyteigen) September 18, 2018
You can pretty much count on Teigen making at least one viral face each year at the Emmys. In 2018, that moment came courtesy of co-host Michael Che. After he deadpanned how impressive it was for anyone to be nominated for Roseanne (Laurie Metcalf, in this case), Teigen literally tried to slink out of the camera's view. The result? Another iconic face.
"That was me trying not to react at all. Because you know how it works at these things. The camera's, like, two feet in front of you, and the red light goes on, and as soon as that light goes on, I'm like, 'Be normal!'" she told Fallon in late 2018. "I can't [help it]. I swear, leading up to that red light, I'm OK. Like, I'm really good, and then… I don't know."
The Ouch Face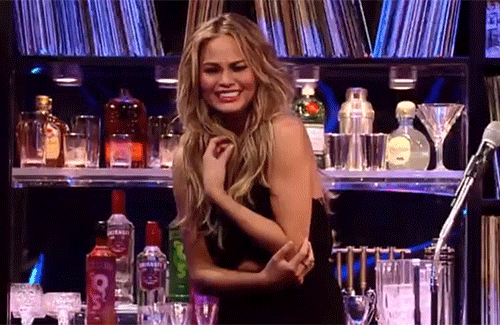 This "ouch-I-just-hit-my-elbow" face is an intriguing mix of pain and what we look like when we see a cute puppy video on the internet.
The Way Too Into It Face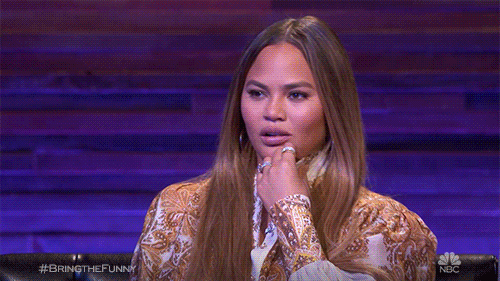 We're not 100 percent sure what contestant Teigen was watching on Bring the Funny, but they must have been pretty good to elicit this type of comically good reaction from Teigen.
The Red-Wine-Nap Face
This is still my favorite moment from Oscars 2017. Chrissy Teigen sleeping during the awards was all of us during that 3rd hour. 🤤😴#OSCARS pic.twitter.com/kDcIpEJy2c

— Lamar Spear (@TheRealLamar) February 27, 2017
I mean, who can't get appreciate a woman who straight-up sleeps through a high-profile awards show? At the 2017 Oscars, Teigen couldn't be bothered to stay awake — and we love the hell out of it. "Red wine… that was early on in the show, too, so by the time they got to the whole La La Land snafu, I was like, 'Oh, he won!' and I woke up a little it, and then he lost, and I was like, 'This is the funniest thing I've ever seen happen in my entire life. I'm so glad I woke up for that," Teigen explained.
The Touched Face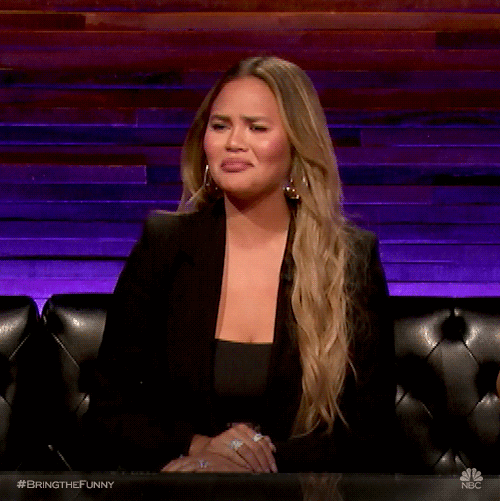 Sure, in a different context, you might mistake this face for Teigen catching a whiff of something foul. It works for that, too. But mostly, we can tell she just got hit right in the feels.
The Trying to Be Polite Face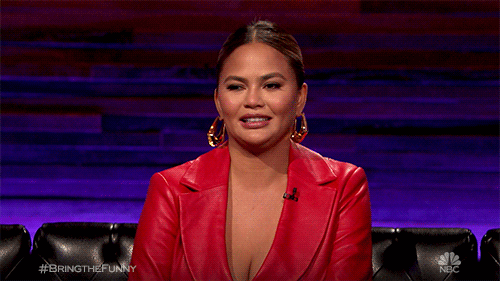 Raise your hand if you make this facial expression at least once a week. (*Raises hand*) It's like her original cringe face, but the more polite version.
The Groupie Face
@chrissyteigen's face keeps switching between "wtf is this" and heart eyes, and I am absolutely here for it 😂😂 https://t.co/lRzGdnSgL9

— Jeremiah Stahn-Knowles 💃🏼 (@jeremiahs521) March 17, 2020
In the face of the coronavirus crisis, Legend proved that he's every it as dreamy as we all imagine he is by throwing a free home concert for fans to watch from home. Teigen provided moral support by sitting on the piano as her husband played — but, as one fan hilariously pointed out, her face kept "switching between 'wtf is this' and heart eyes."
Before you go, check out some of Chrissy Teigen's best Twitter clapbacks.