Paging Dr. Stevens! Is it time for Katherine Heigl to make her Grey's Anatomy return, bringing fan-favorite Izzie back to the halls of Grey Sloan Memorial Hospital? That's the question on fans' lips lately, as Heigl's gig on Suits has her back in the TV spotlight. And so, in a new interview, Heigl opened up about the possibility and her feelings on re-inhabiting the career-making role she left nine years ago.
Entertainment Tonight stole a few minutes on the set of Suits to ask Heigl her thoughts on reprising the role of Izzie. "I haven't [thought about Izzie] in years," Heigl admitted, saying, "I don't know. I don't know if I would or I wouldn't. I almost feel like that would almost be distracting again to, sort of, what they've done with that show in the seven years since I left… and what that's become and what it is to the fans now."
Heigl also alluded to the fact that — during Grey's 300th episode in 2017 — Izzie's ex-husband on the series, Dr. Alex Karev (Justin Chambers), had already described what he imagined her life to be like. So, if she came back, wouldn't it read redundant? Mused Heigl, "It must feel like it would just be kind of like, 'Yeah, we already let that go… why are you here?'"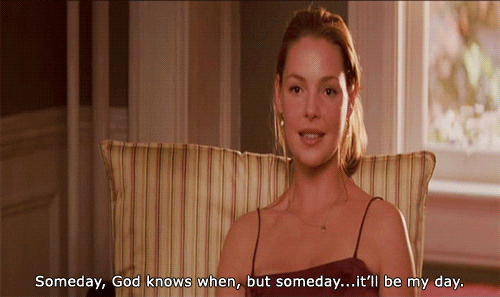 ICYMI, Heigl's Izzie didn't appear in the special episode. But, suffice it to say, it sounds like wherever her character is, she's got a pretty good life. "She's married with three kids… and she lives somewhere, I think, uh, kind of woodsy? And she's a surgeon and she goes to work every day, so she refuses to hire help, so her house is always a mess. And it has Christmas decorations all over it because she wouldn't let her husband take them down," Alex imagined.
There's also some lingering question as to how welcome Heigl would be back on set. In 2008, Heigl stirred up controversy when she removed her name from Emmy consideration. When asked about the decision, Heigl said she felt she wasn't "given the material to warrant a nomination." Heigl would go on to exit the series in season 6, amid rumors of bad blood between her and Grey's creator Shonda Rhimes. In 2012, Rhimes told Oprah that Heigl's words did "sting" but proved useful. "When people show you who they are, believe them. I carry that [mantra] with me a lot. It has served me well.
Still, a lot of time has passed — and, in Heigl's defense, she has apologized publicly numerous times, summing up to Vanity Fair in 2016 that she wished she'd told herself to "shut up" before that infamous Emmys comment. We can't imagine Rhimes feels any ill will toward Heigl anymore, and Heigl has arguably learned a hard lesson.
But as far as Heigl coming back to Grey's, she has a solid point. The very fabric of the show is different now, so it would only work if she was committed to finding the right way to weave Izzie back into the narrative.