Sibling rivalry isn't just totally natural, it's basically downright inevitable. And when the siblings in question are global leaders and cultural icons, the public interest in that rivalry piques. So, a recent report claiming Meghan Markle and Prince Harry have less money than Kate Middleton and Prince William is, unsurprisingly, getting a lot of attention. Is it true? If so, what's the reason? Sit tight, because we've got the alleged scoop on these royal siblings, straight from a highly reputed royal correspondent.
The revelation broke by way of an article in Vanity Fair by royal expert Katie Nicholl, who set out to illustrate all the ways Meghan and Harry plan to give baby Archie a "normal" life. Among her examples was the fact that Meghan and Harry have a small staff helping them manage their Frogmore Cottage estate, and they "won't be hiring anything like what the Cambridges have." At the time, that includes a housekeeper, two assistants, a nanny and two palace orderlies (which are shared). Nicholl cites a palace aide as her source, explaining, "The Sussexes don't have the same financial resources as the Cambridges, for starters."
On the surface, this may seem like a slight. But, in fact, it's a matter of royal hierarchy — Harry and Meghan are not as senior as William and Kate. Or, as the aide describes, "We are further down in the pecking order."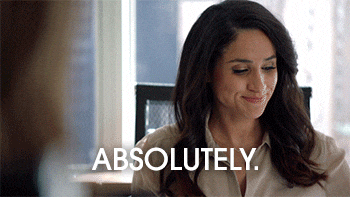 Besides, Meghan and Harry reportedly prefer it this way. "They are able to have a private family life, which is so important to them," charity campaigner Nick Ede, who has worked with Meghan, told Nicholl. "When Meghan first came to England, she fell in love with the countryside. She loves English pubs, a roaring fire, and country walks. Meghan still keeps in touch with a lot of her old friends and many of them have children, so I can see her hosting playdates, organizing tea parties and very stylish dinner parties too. It will be a proper family home."
Of course, the Sussex household will have access to the typical perks the rest of the royal family enjoys. However, the Duke and Duchess are apparently intent on keeping things as low-key as possible. They don't have a chef. Meghan does all of the cooking, ordering groceries and supplies online from Ocado (the UK equivalent of Fresh Direct). The Duchess also doesn't have a stylist — "she does most of it herself."
Sounds like baby Archie has some pretty chill parents who are trying in earnest to make sure their royal digs feel like a true home.