President Donald Trump and his family will be making a three-day state visit to the U.K. next month, and the royal family will reportedly play a large role in his activities while abroad. But at least one member of the royal family won't be present for any meeting and greeting. Per a new schedule released on Friday by Buckingham Palace, Meghan, Duchess of Sussex will not meet with the Trumps during their visit. Her husband, Prince Harry, will join the Queen, Prince William and Catherine, Duchess of Cambridge (along with other members of the royal family) in hosting President Trump during his first official state visit.
A White House official has confirmed that Trump is expected to arrive in the U.K. on June 3, and plans to bring along his wife Melania and his four grown children: daughters Ivanka and Tiffany, as well as sons Donald Jr. and Eric. Upon the family's arrival, a ceremonial welcome will be held in the garden at Buckingham Palace. Among the other activities arranged for President Trump will be a private lunch with Prince Harry. Perhaps that clandestine conversation will center on the reason Harry's wife, Meghan, won't be in attendance — the royal couple's newborn son. "The Duchess of Sussex will not attend," reports BBC News. "It follows the birth of her son Archie, who will be less than a month old at the time of the visit."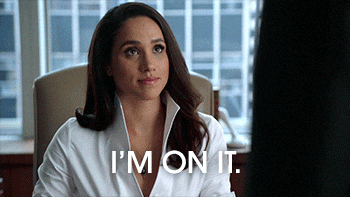 Of course, given Meghan's previous remarks about the current POTUS, it's not difficult to imagine she might be relieved to hang out at Frogmore with baby Archie over participating in the presidential visit. During the 2016 election, the then-Suits star made it abundantly clear she didn't agree with Trump's politics or personality, saying, "Yes, of course, Trump is divisive. Think about just female voters alone. I think it was in 2012 the Republican Party lost the female vote by 12 points. That's a huge number and with as misogynistic as Trump is and so vocal about it, that's a huge chunk of it." The now-Duchess of Sussex was also an outspoken supporter of Hillary Clinton.
While Harry is likely meeting with Trump out of royal responsibility, it would seem the royal may be willing to give the U.S. president the benefit of the doubt — or at least he was in the beginning, if Meghan's father Thomas Markle is to be believed. During his first broadcast interview in 2018, Meghan's now-estranged dad relayed an anecdote to ITV News about Harry's thoughts on Trump. "I've always had a bad attitude about Donald Trump and that's never going to change," he said, recounting how he apologized to Harry over Trump on behalf of the U.S. "All Harry did was say because Trump was new, he said: 'Give him a chance.'"
It goes without saying, though, that much has transpired since then on the global stage involving President Trump. Still, protocol keeps the royals from offering their opinions on heads of state and the fact that Harry will attend a private lunch with Trump indicates diplomacy is key. As for Meghan, the new mama undoubtedly has enough on her own plate at Frogmore Cottage.