Colton Underwood's a virgin — we get it already! Apparently, we aren't the only ones who are growing weary of hearing about the next Bachelor's V-card. In an interview with ET's Katie Krause, fellow Bachelorette alum and buddy Blake Horstmann revealed that Underwood himself is "getting sick of" the focus on his virginity.
Horstmann, who chilled with Underwood at Tuesday's Denver Nuggets basketball game, addressed the many promotional ads hyping Underwood's virginity (and potential loss of it).
More: The Bachelor Season 23 With Colton Underwood Gets Premiere Date
"I don't know if 'insensitive' is the word, because he's very open about it," Horstmann said of the materials. "He has no problem talking about it, which I respect a lot. But I mean, even he's getting sick of it… It's all it is, it seems like."
Colton's dramatic journey to find love will be filled with romance, shocking twists, and plenty of tears. The new season of #TheBachelor begins January 7! Retweet if you're ready! pic.twitter.com/eG96I2yFah

— The Bachelor (@BachelorABC) November 20, 2018
While hanging out with Underwood, Horstmann didn't try to get his friend to spill any details about the season — telling ET he didn't "pry" into Underwood's personal (read: sex) life.
"Honestly, I don't know what happens at the end, but I heard it's something that's never happened before. So I can pitch that, but I don't know exactly what happened," Horstmann revealed. He also noted that Underwood is clearly satisfied with whatever the outcome of his season was, saying, "He's doing good. He's happy."
More: All the Bachelor Scandals Through the Years
Of course, this is The Bachelor. It wouldn't be good TV if they didn't have a few hurdles to overcome, and Horstmann has heard Underwood's season has its fair share.
"There's some drama [on the upcoming season], from what I've heard. He's been very hush-hush, even with me, so I'm kind of mad at him about that, but it's going to be a fun season," said Horstmann.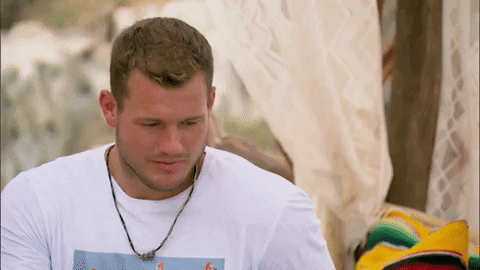 Master of rose ceremonies Chris Harrison also recently weighed in on this season's drama, telling E! News' Nina Parker this weekend, "It's a pretty gut-wrenching, wild ride with him."
The longtime Bachelor host emphasized, though, that it's a ride Bachelor Nation fans should take.
"Once you get to see him and know him, everyone is going to fall in love with him and really respect that he is so open, so vulnerable, so emotional," Harrison promised.