The Modern Family writers giveth, and the Modern Family writers taketh away. Or in this case, vice versa. Mere weeks after the death of recurring character DeDe Pritchett (played by Shelley Long), the hit sitcom revealed that Haley Dunphy (played by Sarah Hyland) is actually pregnant. And spoiler alert, Julie Bowen, who plays Haley's mom, Claire, feels conflicted about this narrative turn toward becoming a grandma.
"Grandma!" Bowen enthusiastically reacted when E! News asked how she felt about the latest Modern Family plot twist. "That's right. I'm gonna be a grandma."
She went on to elaborate, "[I]t feels weird because Claire's gonna be a grandma and I'm like, 'But it's kinda like me being a grandma."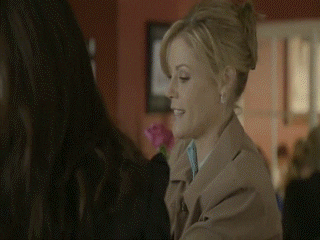 More: This Modern Family Character Won't Die in Season 10, Says Jesse Tyler Ferguson
In case you missed it, last week, the show dropped a major bomb by revealing that Haley, the daughter of Claire and Phil (played by Ty Burrell), is pregnant. The news was particularly shocking considering how closely it followed on the heels of another surprise: the death of DeDe Pritchett.
Here's how it all shook out. On Wednesday's episode, Haley and her on-again, off-again boyfriend, Dylan (Reid Ewing), decided to prove how grownup they are by driving bumper cars at a carnival. Unfortunately for Haley, Dylan bumps into her car as she is mid-lipstick application, causing the lipstick to get lodged in her nostril.
When the pair goes to the hospital to get help dislodging the lipstick from Haley's nose, the routine blood panel done by the hospital reveals she is expecting… presumably by Dylan, but that remains to be confirmed.
Spoiler Alert! Haley receives some big news. #ModernFamily pic.twitter.com/ZaczVZcq2u

— Modern Family (@ModernFam) November 10, 2018
For Hyland, her character's new condition was just about as surprising as a lipstick tube up the nose. Speaking with The Hollywood Reporter at the end of October, Hyland teased the adjustment, saying something "bigger than death" was coming and that "it was a shock, that's for sure."
The irony, of course, is that Haley found out she was pregnant because she was trying to prove she doesn't have Peter Pan syndrome — and life tends to force your hand when it comes to growing up if there's a baby on the way.
In an interview with E! News, executive producer and cocreator Christopher Lloyd revealed that Phil and Claire could have comical reactions to the news when Haley decides to tell them.
More: Modern Family Season 10 Keeps the Twists Coming
"They react about nine different ways, you can imagine," Lloyd said. "They're younger than people typically become grandparents, and they have a lot of misgivings about whether Haley is ready, but there are also huge echoes of their own experience getting pregnant at a time when they were not expecting it and probably felt overwhelmed by it."
Hyland told THR her main hope for her character before the series' end is that she'll grow up and learn a little responsibility. And since the show is tentatively slated to end after this season, a new baby might just be the thing that brings to fruition Hyland's wish for Haley.