Octavia Spencer is busy transforming her body and improving her well-being, and she's doing it with the help of a famous friend: Mark Wahlberg. When she decided to kick up her exercise regimen, the acclaimed actor turned to her Instant Family costar. Bonus? She's been documenting her process via Instagram.
Basically, if you need a bit of workout inspo, she's your woman. Spencer does the work — just ask Wahlberg.
More: Octavia Spencer's Next Project Is for True-Crime Fans Everywhere
In a video posted to Wahlberg's Instagram account on Sept. 24, he appeared alongside Spencer to rave about her dedication. He says she goes to sleep at 7 a.m., wakes up at 2 a.m. and is at Wahlberg's gym by 3:30 a.m. to squeeze in her workout. And, per Wahlberg, she "puts in the work" like "no one has ever seen."
In addition to workout videos showing some of the fitness endeavors she's undertaking, Spencer frequently posts aspirational progress pictures.
On Oct. 24, she shared a refreshingly vulnerable video on Instagram discussing her arms, saying, "I never go sleeveless. But here is what I want to show you. I've been working out for years, and the cellulite on my arms has never gone away. It's melting away from my thighs too!"
A few days later, she posted a throwback picture to illustrate the difference in her arms. "Posting this picture so you can see the difference in my arms. I was 40 lbs lighter here [than present day]," Spencer wrote, explaining that despite working her upper body "like crazy," she and her trainer couldn't seem to vanquish her cellulite.
Spencer credits the transformation in large part to Wahlberg and his Performance Inspired supplements — which she keeps on set to combat mindless snacking from the craft table.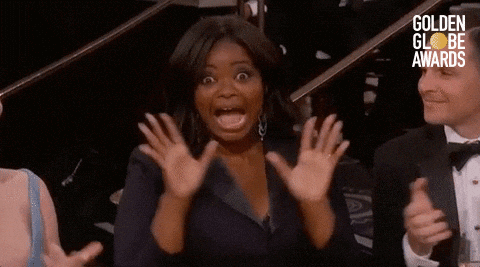 More: What You Didn't See in Hidden Figures About the Real People Who Inspired the Film
"The fact that my crew is inspired to do small things to help us all reach our fitness goals makes my heart burst with pride," she wrote on Instagram Oct. 6. "We work 12 – 14 hours a day, surrounded by comfort snacks just waiting to indulge bad choices. So, I'm introducing them to my @performinspired nutrition family. We will have protein shakes, protein cookies and bars to help keep us on track."
Of course, the most important part of this journey is how it makes Spencer feel. And these days, that's confident. During an appearance on The Ellen DeGeneres Show on Wednesday, she playfully discussed her dating life.
When DeGeneres asked if there were any potential romances happening, Spencer replied, "Kinda. Not really, but did Brad Pitt say something about me, is that what this is about? 'Cause I saw him Sunday. I saw Brad Pitt Sunday night, and I squeezed him. Is that what this is about?"
She continued, joking, "Well, you can hook me up with Brad. But we're just friends, Brad and I, don't start that rumor, Ellen. Brad and I are just friends. Brad Pitt."
More: All the Apple TV Original Shows That Have Been Announced So Far
Hey, we're not hating the idea of an Octavia Spencer-Brad Pitt romance. Or should we say, Broctavia? We kid. We kid. Regardless, we hope Spencer keeps doing her thing in the gym and on-screen, 'cause she is steady giving us life over here.