Arguably the biggest news to come out of the Game of Thrones prequel arrived on Tuesday, with Deadline reporting that Naomi Watts has secured the lead role in the HBO pilot's ensemble cast. Per the outlet, the Oscar-nominated actor will play a "charismatic socialite hiding a dark secret."
Watts is the first cast member attached to the prequel to be revealed, but per Entertainment Weekly, the series is actively seeking actors for various parts as well as a director.
Naomi Watts has been cast in 'Game of Thrones' prequel series in a lead role. Her character is described as, "A charismatic socialite hiding a dark secret." ⚔️

(via @Variety) pic.twitter.com/kTg0F33xRx

— Game of Thrones Facts (@thronesfacts) October 30, 2018
More: Don't Hold Your Breath for Game of Thrones Season 8 to Premiere in April 2019
What we do know so far, outside Watts' casting, is that the prequel will be written by Jane Goldman (Kick-Ass, X-Men: First Class, X-Men Days of Future Past) and, naturally, author George R.R Martin.
The show will take place thousands of years prior to the existence of the Game of Thrones characters and the world we know and love. It will cover the world's descent from the Age of Heroes to the Long Night (a phrase referring to the winter that lasted a generation in the book series). Fans can expect to dive even further into the origin of Westeros and the terrifying White Walkers through this prequel.
Not surprisingly, the prequel's creators are cautioning fans against making any premature assumptions. The reported log line for the show even states that it is "not the story we think we know."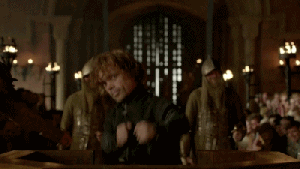 In an interview with Deadline in July, HBO's president of programming, Casey Bloys, also explained that it would be inaccurate to assume the prequel would cast a female lead to set itself apart from GoT.
More: The Game of Thrones Prequel Is Officially Happening
"There are very strong female characters but it's an ensemble, there are men and women," Bloys told Deadline. "Jane [Goldman] is a very good writer, we don't want to limit her to writing female leads. There are a lot of very complicated leads in [the pilot]."
Although none of those strong leads will come from the original series (sorry, Jon Snow lovers), it's a safe assumption that many of them will be Lannisters and Starks. After all, the history of these two houses serves as the crux of the entire GoT universe.