Do you ever wish you could just drop everything and run away? Do you ever check the Greyhound schedule, and then look at your watch, and then check the Greyhound schedule again? Do you ever consider leaving your job as a high-stakes surgeon to go think about stuff for a while?
More: These Grey's Anatomy Fan Favorites Are Officially Done & We're Not OK
Well, last night on Grey's Anatomy, Jackson Avery decided to do just that: disappear into the ether after shooting off a quick email to the hospital and leaving a vague message on his love interest's voicemail (Jackson, who checks their voicemail anymore?).
Later, when Maggie discusses the sudden departure of her lover, she says, "He said he needed to go clear his head or unplug or whatever. He has some big questions and he needed some big answers. Is there something wrong with me? I almost died too, and I feel almost lucky. He said if he told me to my face, he wouldn't be able to leave."
Then she speaks for the entire audience of the show when she concludes, "I don't know anything, except Jackson left."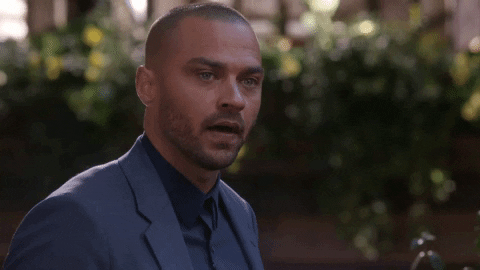 Maggie says she's humiliated — and she's also a little enraged to boot. After all, things seemed to be going well, and there was even almost a marriage proposal, or something like it. How is Jackson feeling? We don't know. He's gone.
It makes sense in a way that Jackson needs to get away. He's been through a whole lot in the last few seasons, from the Seattle Grace Mercy West mass shooting to that notable aviation accident to the loss of his infant boy and subsequent divorce from April. In fact, April already ran away from her problems, traveling halfway around the globe to a war zone just to find some peace.
But where is Jackson going, and will he ever come back?
Maggie could find out simply by texting him (or leaving him a voicemail, which apparently is something they do to each other), but although she writes, "Got your message. We should talk," she doesn't manage to send the text.
Will she use their time apart to discover that she truly, deeply loves him? Or will his absence make her realize that he's not the one for her? Only time will tell. The existence of Jaggie hangs in the balance here.
More: 10 Struggles Every Grey's Anatomy Fan Knows to Be Real
Twitter was not having any of Jackson's run-away-and-reflect moods — and fan reactions revealed that they were as flummoxed as Maggie and the rest of the staff.
ok but Jackson is coming back right? RIGHT???!! #GreysAnatomy pic.twitter.com/mTEm8jUHkI

— Agent Daynnah Scully👽 (@DaynnahScully) October 5, 2018
Wow I guess April really did rub off on Jackson, cuz he just pulled a total April move by totally abandoning Maggie without even really talking to her first. #GreysAnatomy

— Alexis (@BigLoserQueen) October 5, 2018
Jackson and Maggie could've been hit by that car if Andrew wasn't there. Instead, Jackson's patient got hit and died from her injuries on his table. But yes, Jackson is taking a break and examining his life because he "misses/still loves April." 🙄🙄 #GreysAnatomy pic.twitter.com/ML7xJWwsL4

— 𝙲. 🍂 (@artsyfilmtype) October 5, 2018
You know what Shonda? I'm tired of you doing me this way! You gave me Jackson and Maggie and then just snatched them away!?! #GreysAnatomy pic.twitter.com/HqowqstVAw

— Dani (@DaniRoyalty864) October 5, 2018
Although some fans were thrilled that Team Jaggie (or "Gaggie," as one user spelled it) might be done for good.
Maggie: "Jackson left…"

Me: *high-fiving myself that I don't have to sit through another #Gaggie scene#GreysAnatomy pic.twitter.com/v1FR0xFh5L

— Lea (@CrayCrayRules) October 5, 2018
#GreysAnatomy wish Jackson never came back pic.twitter.com/ajQHLVTbft

— alexxxx☀️🌙🎨🐻🐚 (@hurricanealecs) October 5, 2018
But whether you are Team Jaggie or not, you're going to have to wait at least until next week for an update on the whereabouts of Jackson's physical self as well as his heart.