Hark, Grey's Anatomy fans! Hope is on the horizon. On Thursday, the NBC drama returned to screens with a two-hour season 15 premiere, and it did not disappoint. Such happiness is typically fleeting on this tear-jerking series, so fans naturally tend to be wary. However, in a new podcast interview, Grey's showrunner Krista Vernoff insisted this season will be uncharacteristically upbeat — including a dating life for Meredith.
Vernoff opened up about the direction the rest of the season will take while speaking to Variety's executive editor of TV, Debra Birnbaum, on the Remote Controlled podcast. And, as she explained, she started steering Grey's toward a new "joyful" vibe when she came back on board last year.
More: Sara Ramirez Wants to Return to Grey's Anatomy, & We Approve
For starters, Vernoff curtailed plans to kill off Jerrika Hinton's character, Dr. Stephanie Edwards, in season 13. Gasp! Yes, the show originally had Stephanie perishing in the hospital fire.
https://media.giphy.com/media/zzFZGURdAux6o/giphy.gif"The show had become a much darker, more serious drama," Vernoff told Birnbaum of recent seasons. "Now it's time to bring the light back in. The government's gone dark, people need some relief. So, I came in to bring joy and comedy and light."
Of course, that's not to say Vernoff's job is or has all been sunny. There are a few faces noticeably absent from the halls of Grey Sloan Memorial Hospital this year — namely, Arizona Robbins and April Kepner.
Vernoff admitted that cutting those characters was a necessary but extremely difficult evil. "Well, look, I came back season 14. I had been gone since season seven. When I arrived, we had 14 series regulars, and that is an unmanageable number of series regulars to write stories for. Nothing has time to land. It wasn't manageable. And so I made some complicated and difficult decisions last season," she explained, noting, "Nothing was easy about that, at any step."
More: These Grey's Anatomy Fan Favorites Are Officially Done
One way Vernoff will be doing that — pay attention, fans — is with good old-fashioned romance. "This season, it's even more of a romantic comedy than it was last season… this season we're coming in fast and fun," she said.
The season 15 premiere certainly seemed to support this. Meredith starts fantasizing (unwittingly) in her dreams about everyone from DeLuca to the new "ortho god," played by hunky Nashville star Chris Carmack. By the end of the episode, she's sitting down with a matchmaker — who happens to be a patient, naturally — to discuss her future dating life.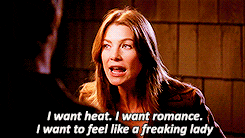 In one episode this season, Vernoff revealed, Meredith's entire storyline takes place outside of the hospital as she goes on a first date.
More: Grey's Anatomy Could Be Done After Season 16
The premiere also laid the groundwork for the whole Amelia-Owen-Teddy love triangle. Vernoff hinted that there's more to come in the romance department as well, including a totally new romance with the show's first openly gay male surgeon, Dr. Nico Kim.
"We're doing a really beautiful coming out, and we're doing a really beautiful love story that is exciting and fresh and somehow in 15 seasons we haven't done," she said.
Although Vernoff admitted that there will be sadness too ("The pain of life and the comedy of life coexist," she said), she ultimately feels that fans will find season 15 to be a joyful experience.
"It's sexy. It's funny. It's moving. It's deep. It's playful," she told Birnbaum. "And I'm going to say delightful."