Reese Witherspoon gets just as starstruck as the rest of us, at least when it comes to members of the royal family. She confessed in her new book, Whiskey in a Teacup, that she totally freaked out when she met Catherine, Duchess of Cambridge, aka Kate Middleton, back in 2011. Honestly, we totally get it, Reese, because we'd freak too.
More: All of Reese Witherspoon's Roles, Ranked
It all started when Witherspoon was invited to Kate and Prince William's charity fundraiser for Tusk Trust, which focuses on conservation initiatives in Africa. The posh Los Angeles event was part of the couple's first tour after their royal wedding.
Witherspoon's freak-out began before Kate was even in view. She writes in her memoir: "The scream that issued from my lips upon receiving [the invitation] — you would have thought I was going to die. I wake up early, mind you, but on that day I was up at 4 am doing my hair. That's early, even for me. 'I've never seen you this excited,' my husband said. He wasn't kidding."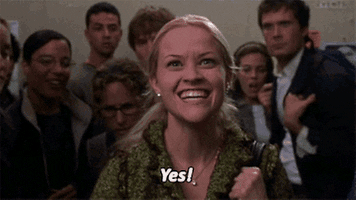 The celebrity crush continued on the way to the event. "Jim took pictures of me in the car," she said of her husband, talent agent Jim Toth. "You can see rays of happiness shooting out of my face. I love Kate Middleton that much. And she did not disappoint!"
More: Kate Middleton May Be Royal, but She Gets Her Own Groceries
Her reaction was unexpected, as Witherspoon admits in her book that in the past, she had felt "relatively immune from the obsession with the royals." But that apparently ended in the face of an in-person meeting with duchess doing good.
But what happened when the two finally came face-to-face in real, actual life? Witherspoon says she was everything she wished for and more.
"She was just lovely and warm, elegant and composed," Witherspoon revealed. "She also told a joke, and I immediately fell under her spell. She's just as magnificent as she seems to be. She's a very compassionate, socially conscious, deeply caring person."
More: How Kate Middleton Is Helping Meghan Markle Amid Family Drama
The thing that impressed her the most? That the duchess was so committed to her life of social justice and community work. "It takes a very special person to decide to commit to that kind of life, to choose to be under public scrutiny every moment," Witherspoon writes. "Now that she's in that position, her entire life is in service, forever. I am so in awe of that kind of dedication."
Witherspoon's memoir, which focuses heavily on her Southern upbringing, was released on Sept. 18 to positive reviews. She's currently on a book tour.