If you've ever accidentally left a good friend out of a big announcement, don't worry — Carrie Underwood has too. Apparently, Underwood and her husband, Mike Fisher, forgot to tell their longtime friend and Underwood's fellow country star Luke Bryan that Underwood is pregnant with their second child, which she announced publicly back in August. Whoops!
More: Carrie Underwood Gets Sentimental About Receiving Her Walk of Fame Star
During Entertainment Tonight's interview with Bryan at the iHeartRadio music festival in Las Vegas over the weekend, the news outlet was apparently the first to tell him of Underwood's second pregnancy. When ET asked Bryan about watching Underwood perform at the festival, he apparently got caught off guard by the 'pregnant' part of the question.
"Oh, that's news to me! That she's pregnant," Bryan said. "I'm very, very happy for them!"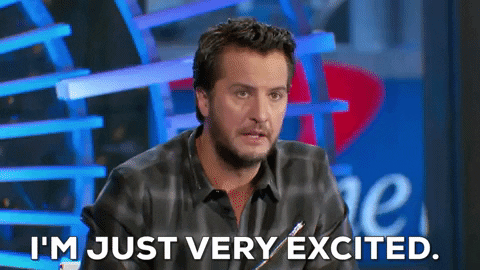 "Well I'm gonna send them some fishing rods," Bryan said. "That's so good, I'm so glad to hear that," he added. Still focused on the good news, he told ET he predicts Underwood and Fisher will have another boy.
Those fishing rods are not only an adorable gift but one that speaks to the nature of Bryan's friendship with Underwood's husband, Mike Fisher, whom Bryan noted he's "pretty good buddies" with and who he has bonded with over being "Nashville guys." As he told ET, "[Fisher] has the guy that built his lake, and my fish guy, we're all kinds of linked. Mike's building a pond, I built a pond, that's our big connection… because we have little boys, and little boys have to have somewhere to go fishing."
More: Carrie Underwood Reveals She Had 3 Miscarriages Before Current Pregnancy
We'll have to wait to see if Bryan's prediction comes true. In the meantime, Underwood has a lot to celebrate, and we're glad her friends are excited for her — no matter how they hear about her good news.