It's a sad day for fans of the hit Showtime series Shameless. In a long and deeply emotional letter to fans, star Emmy Rossum broke the news that she will not be reprising her role as Fiona Gallagher after the upcoming ninth season.
Rossum, who's been with the show since it premiered in 2011, took to Facebook to express her feelings about the exit — or at least try to. "It's a hard thing to put into words, feelings," she started, "But I'm going to try."
More: 7 Times We Wanted to Be Best Friends With Emmy Rossum
Before we go any further, we feel it's only fair to warn you that the following excerpts from Rossum's letter might make you tear up a little. Or a lot. Or bawl. You'll get no judgment from us.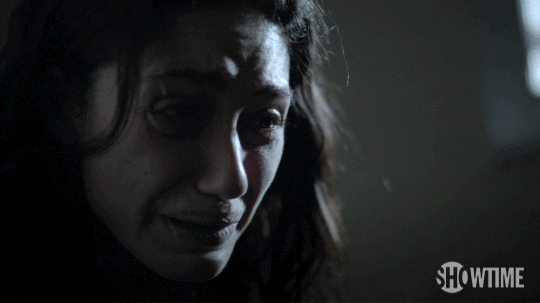 Rossum starts by touching on the typical work life of an actor: one that is constantly in motion. It wasn't until Shameless, she explains, that she realized she likes standing still.
"Until Shameless came into my life 8 years ago, I led that kind of transient wonderful life of an actor. And I never realized how much I actually craved the kind of continuity that this show has given me. And given all of us in the crew. Season after season I'm amazed that our same crew comes back. And it's not just because it's a wonderfully written, wonderfully layered show. There are these real connections, real friendships that bring us back season after season after season," she wrote.
More: Emmy Rossum Marries Mr. Robot Creator Sam Esmail
Unlike Fiona, Rossum grew up as an only child and craved the chaos inherent in a big family. Being a part of the dysfunctional but fiercely loving Gallagher family has given her that.
"We've watched the kids grow up into the strong, talented, independent human beings that they are. I taught Emma to shave her legs. I was there when Ethan learned to drive," she revealed. "Shanola and Jeremy and Joan and Bill danced at my wedding in New York last year. Our fearless leader John Wells thankfully held Sam and me up on those rickety chairs during the hora. I've spent the Jewish holy days in temple with David Nevins and his wonderful wife and kids. It really feels like a family."
And while saying goodbye to her cast and crew is clearly difficult for Rossum, saying goodbye to this character she's inhabited for so long seems to be equally torturous for the actor, who calls playing Fiona "a gift."
"There are few characters — female or otherwise — as layered and dynamic. She is a mother lion, fierce, flawed and sexually liberated. She is injured, vulnerable, but will never give up. She is living in an economic depression, but refuses to be depressed. She is resourceful. She is loyal. She is brave. I knew it the second I read the pilot script, this was different, this was special," said Rossum.
More: Emmy Rossum Isn't Proud of Her Skinniest Moment
Before signing off, Rossum hinted at that proverbial acting idiom, "The show must go on." Although, as fans, we can hardly imagine the Gallagher world without Fiona in it, Rossum reminds us that there's still much story left for the family to tell. She just won't be a part of it.
"I will always be rooting for my family," she said. "Try not to think of me as gone, just think of me as moving down the block."
BRB, just gotta go bawl our eyes out.
It's unclear at this point why Rossum decided to leave the show. As reported by Deadline, Rossum found herself locked in tense negotiations with the production studio prior to the eighth season. Before reaching a settlement that would provide parity for her and William H. Macy, Rossum had been holding out for a higher salary than her costar.
On Thursday, showrunner John Wells issued a statement lamenting the show's loss.
"Emmy Rossum will forever be part of the Shameless family," he said. "She has been integral to the show's success, from her wonderful portrayal of Fiona to her leadership role on set, as well as directing multiple episodes of the series. We are hard at work now creating a season nine finale for Shameless which we hope will provide a Gallagher-worthy sendoff for Fiona that honors the great work Emmy has done. It is always bittersweet when an ensemble member decides to move out of the proverbial house, but our door will always remain open for Fiona to return home for a visit, or to move back in. I look forward to continuing the stories of this wildly unpredictable family and all of us on Shameless will miss Emmy and her wonderful Fiona."
Hey, at least that means there's a chance Rossum could return in the future. Plus, we still have her final season yet to watch. And happily, she already has her next big gigs lined up. In 2019, she'll star alongside Liam Neeson and Laura Dern in the revenge action flick Hard Powder. She is also currently attached to a limited series about Hollywood icon Angelyne that Rossum's husband, Sam Esmail, created.