Of course Oprah Winfrey has perfected her ideal date night plans with longtime partner Stedman Graham. Why would we expect any less from a true queen, a woman who manages to make all of our lives better through the work she does and the art she creates? On Wednesday, the world finally got to know what Winfrey's ideal date night plans were, and y'all, they combine two of the best things in the world: a little bit of food and a whole lot of TLC.
More: Oprah Winfrey's Latest Investment Is an Expansion Into the Restaurant Business
E! News reported that on Wednesday, Winfrey hopped on the O Magazine Twitter account during the #AskAStaffer segment to answer fan questions of all sorts, but it was her answer to the question about her perfect date night that caught our attention.
For the two of them, it's all about food. Winfrey first explained just how much Graham loves her cooking and will literally marvel at anything she makes, even if it's store-bought.
She said in a Twitter video, "Well, I am a really good cook and the wonderful thing about Stedman is in all the years that I've been cooking for him, Rachel, no matter what it is — even if it's a piece of toast — like the other day, I made an English muffin, and he's like, 'Where did you get this English muffin?' and I'm like, 'It's an English muffin.'"
"Honey, hush!" Oprah describes a typical date night with Stedman in our kickoff edition of Ask a Staffer: pic.twitter.com/je0l4U8bLn

— O The Oprah Magazine (@oprahmagazine) August 2, 2018
Graham's enthusiasm for her cooking, even when she's cooking simply, has allowed her to perfect the date night menu to ensure that whatever happens once she and Graham finish eating is really, really good (wink, wink).
"So, he is delighted with anything that I make, so my favorite date night is to make him black-eyed peas and cornbread as a surprise for dinner and then, honey, hush. That's all you need!" Winfrey said. "Perfect date night: me cooking and then it's on."
Oh, "it's on"? Get it, Oprah!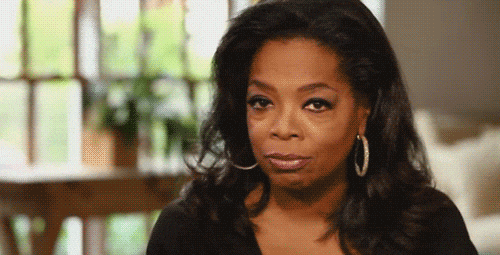 More: Oprah's Life Is Becoming a Museum Exhibit, & It's About Time
If this perfect date night plan can work for Winfrey and Graham, it could work for us, too. Let's all go test drive it and report back.