Can you believe it's been 20 years since The Parent Trap remake, which introduced the world to Lindsay Lohan, hit theaters?
It's one of many Parent Trap movies (including 1961's The Parent Trap and 1986's The Parent Trap II) that exists and follows in the footsteps of the 1961 film: Long-lost twin sisters Hallie and Annie go from foes to friends while attending the same summer camp after they accidentally discover they are actually sisters. With Hallie raised by their dad and Annie by their mother, the girls decide to switch places to see what each other's lives are like. After their switcheroo is discovered, their parents have to meet up to switch them back and end up falling back in love in the process.
More: All the Nostalgic TV Shows & Movies Being Rebooted in 2018
In the hands of director Nancy Meyers and with its special Disney magic, there seems to be an eternal charm to the 1998 version that is so much fun to return to. So I thought it would be fun to reconnect with this movie by watching it with my sisters, Kelsey and Madi, who, much like Hallie and Annie, I've been separated from as we plow through our own lives with school, work, relationships, hobbies and whatnot in three separate states. Being away from them has been tough because we've gotten so close in recent years. I wanted to share this experience with them not only to hang out with them but to see what their thoughts about The Parent Trap would be 20 years on.

While I was around the target age demographic when the film was released, Kelsey and Madi were younger, so they came to the film when they were older and when the hyped had died down a bit. After getting both of them on board for a re-watch, we spoke about the first time we saw the film before turning it on.
"I always thought it was cute," Kelsey told me. "There was something fun about the film, and dreamy or idealistic in a way. Like, the fact that they go to summer camp — which we never did and which I always wanted to do — or that they live in these ultra-lush places like Napa Valley and London and they get to have really fancy meals and wear great clothes… It really sucked me in. That's what I remember feeling watching it — that I wanted that life in a way."
Madi, never much of a movie-watcher, has always been and continues to be so awestruck by the mechanics of the film. In our pre-viewing conversation, she attempted to recall how she felt about the film ("I remember watching it with Kelsey and thinking it was all right, I guess."), but one thing she touched on that Kelsey and I enthusiastically agreed with was recalling how confused we were that Lohan played both roles and movie magic put her in the same room as herself (we were unaware when we first watched The Parent Trap that that kind of technology was common in filmmaking and had, in fact, be used in the original 1961 film).
"No, but seriously, how the hell did they do that back in 1998?" Madi commented incredulously. "When I found out that the main characters were played by Lohan, I just remember that I kept trying to figure out how they made it look like there were two of her. It was so interesting to me."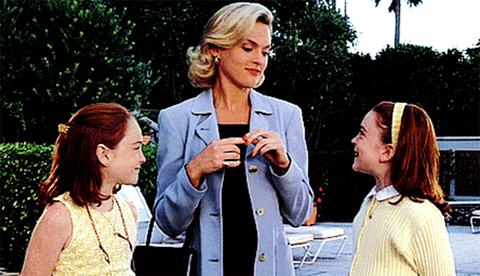 It was time to start the movie.
Now, my sisters and I are all grown women in our 20s, but we couldn't help getting caught up in the film. There were moments when we'd rib each other and murmur, "That's so you," like when Hallie encourages Annie to try the weird snack combo that is Oreos and peanut butter (me) or when Annie hastily tries to put on an American accent to fool Chessy, the Napa housekeeper who knows something fishy is going on and keeps getting flustered because she's so truthful (Kelsey) or when Hallie pulls a prank on Annie by stealing her clothes after she skinny dips at camp (Madi).
There was a lot of incredulous shouting as well because, with the gift of time, we couldn't help but see how silly some elements of the film truly were through our modern perspectives.
"Seriously, Meredith is only 26? Really? Twenty-six years old and she's wearing a wide-brim black hat like a total drama queen?" Madi commented after the movie introduced us to the evil stepmother-to-be, Meredith Blake.
Kelsey couldn't get over the hysterics of Hallie and Annie's mother, Elizabeth, when she found out the girls had switched themselves and she had to take Hallie back to California, which meant she'd be seeing Nick for the first time in 11 years. "Literally, this entire freak-out situation with the cigarette and the messy hair and the sunglasses is a real mood," she commented with a laugh. "Like, this is how I feel as an adult all the time, mentally. Oof."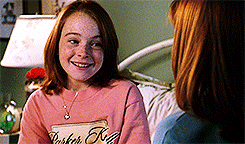 At one point, I remarked that this movie reminded me how badly I wanted a twin sister, to which Kelsey and Madi, eyes still glued to the TV screen, whispered, "Totally," and "Me too." And while we didn't really touch on it again, I realized something big in that moment: even though we all wanted to have a twin sister while watching the movie, we were luckier than that because we had each other. We may have grown up differently for most of our lives, chosen different career paths, or we may be into different books, movies, television and whatnot, but we're still sisters. At the end of the day, we don't need twins because we've formed our own special bond. We all became one another's Hallie and Annie — a gift given by the passage of time and the pure joy that is The Parent Trap.
More: Does Mulan Still Hold Up 20 Years Later?
Twenty years on, The Parent Trap is still as delightful and fun and enchanting as it was back it 1998. But now, The Parent Trap serves as a reminder to me that siblings who are there to love you, support you, and laugh with you when you all watch a lizard climb into Meredith's mouth are all I really need in this world.