Sunday night was a special night for Black entertainers, artists, power players and the people who love the art and culture they create because — in case you hadn't heard — it was the night the 2018 BET Awards aired. Hosted by Jamie Foxx, the evening was a triumphant celebration of all things Black pop culture, with performances from Nicki Minaj, Janelle Monáe, Meek Mill and Snoop Dogg, a tribute to the legend Anita Baker, more than a few great Black Panther references and an inspiring award presentation from John Legend.
More: Michelle Obama Made a Special Appearance at the 2017 BET Awards
If you missed the BET Awards on Sunday night, don't worry. We've put together some of the biggest moments from the evening for your definitive recap. Check it out below.
Netflix debuted the powerful "A Great Day in Hollywood" ad
Netflix debuted a video titled "A Great Day in Hollywood" that brought together 47 actors, directors, writers and producers who have worked on Netflix original movies, TV shows and documentaries. The purpose of the ad was to show that Netflix is dedicated to giving Black people, lives and experiences a place to shine. As Stranger Things star Caleb McLaughlin (who also narrated the video) reminded viewers, "This is not a moment. This is a movement."
Jamie Foxx showed love for Black excellence & Black Panther
Thankfully, Foxx's opening monologue for the award show was perfect, with tons of references to major moments in Black pop culture from the last year, like Black Panther, and lots of love for the folks in attendance.
Janelle Monáe stunned on the red carpet…
Janelle Monáe looking absolutely gorgeous and repping her pride at the #BETAwards pic.twitter.com/QmzeDxuUDo

— HuffPost BlackVoices (@blackvoices) June 25, 2018
Monáe was all about queer pride in a dress that paid homage to the LGBTQ community, which she wore beautifully on the red carpet.
…. & she stunned on the BET Awards stage
Janelle Monae's full #BETAwards. She brought it full throttle! 👸🏿 pic.twitter.com/2w3M22fC0n

— Scene Cut 🎬 (@SCENECUT) June 25, 2018
Monáe made female empowerment the name of the game during her showstopping performance on Sunday night.
Snoop Dogg took us to church with a medley of his hits
https://twitter.com/BET/status/1011095897055289344Snoop Dogg's medley of hits may have closed out the show, but it's still one of the first things we think of as we reflect on the 2018 BET Awards.
Donald Glover was the epitome of cool during the show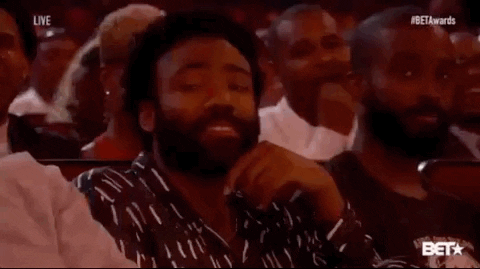 Donald Glover was all of us, looking very chill and very happy while watching the award show unfold.
Nicki Minaj wowed the crowd with her latest song, "Chun-Li"
https://twitter.com/BETAwards/status/1011059295637495808Bow down to Nicki Minaj, who absolutely killed it during her solo musical performance.
Anita Baker received a lifetime achievement award & a stunning tribute
Everything about Anita Baker's acceptance speech for her lifetime achievement award was pure magic.
Tiffany Haddish's acceptance speech after winning best female actor was everything
Congrats to the amazing @TiffanyHaddish for winning the 2018 #BETAwards Best Actress Award. The delivery of your well deserved @BETAwards was quite interesting. 🤣 pic.twitter.com/1BxLkYEWiJ

— BET (@BET) June 25, 2018
Tiffany Haddish really made us weepy, y'all. Her acceptance speech for best female actor was so heartfelt and left us inspired. Plus, it didn't hurt that Jamie Foxx dressed up and rode a motorbike to track her down and give her the award in person.
John Legend presented the humanitarian award & gave us chills in the process
John Legend introduced six individuals at the 2018 BET Awards who have done "something unexpected and impactful" to become humanitarian heroes. Among those on stage was Parkland school shooting survivor Anthony Borges. https://t.co/WrsAjzpTGT pic.twitter.com/XYUHVJ2D6R

— NBC News (@NBCNews) June 25, 2018
While presenting the humanitarian award, Legend took a moment to honor heroes we've seen rise up in tough situations in the last year, including Parkland survivor Anthony Borges. It was a sobering but necessary moment.
Look at Nicki Minaj on the glittery pink horse just bringing the house down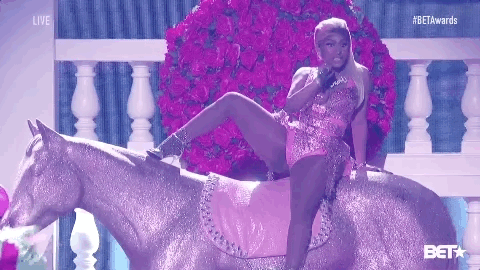 Minaj stunned when she broke up the boys club rapping on YG's "Big Bank" by riding in on an opulent horse prop that was only fitting for a queen like her.
Michael B. Jordan couldn't stop dancing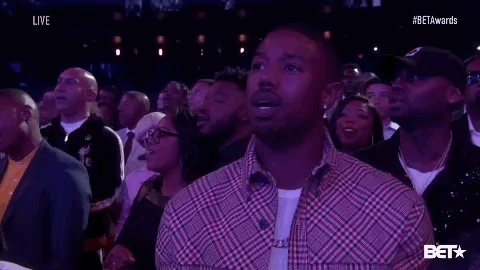 Black Panther's Michael B. Jordan was really feeling the music during the evening's music performance moments.
And finally, every moment of the presentation for the best group award was just perfect
And the #BETAwards trophy for Best Group goes to… @Migos! 🔥 pic.twitter.com/rHdXnImuXe

— #BETAwards (@BETAwards) June 25, 2018
While presenting the award for best group, actors Jason Mitchell and Jacob Latimore managed to make light of the recent troubling trend of white people calling the police on Black people who are not committing any crimes, and later, Offset from Migos gave a shoutout to his girlfriend and mother to his child, Cardi B, in a rare moment of PDA for the reserved rapper.