The first time I saw Mindy Kaling was on The Office. I didn't officially start watching the NBC comedy until Season 7 (and after, I binged it fast online), but as soon as I welcomed the Dunder Mifflin group into my life, I fell for Kaling — and hard.
More: Celebrate Mindy Kaling's Birthday With the Best The Mindy Project Quotes
I mean, here was this talented and funny woman (of color, mind you) not only acting, but writing, directing and producing comedy TV. This was huge.
Now more than ever, the entertainment world can't escape how women are impacting Hollywood on all fronts (the future is female, ladies!). Between ensuring women are telling women's stories, women are working behind the camera and women are receiving equal pay — along with the #MeToo and Time's Up movements — we're at the Hollywood forefront for the very first time. And Kaling is at the helm.
More: The Ocean's 8 Trailer Is Here, & It's the Female-Led Movie We Need in 2018
Let's talk about her résumé
Kaling opened my eyes to how much women are doing and can do. Just take a look at what's on her plate right now. She's currently starring in the wildly successful Ocean's 8. She created and is acting in another comedy, NBC's Champions. She's bringing a Four Weddings and a Funeral anthology adaptation to Hulu. She will soon be starring across from Emma Thompson, Hugh Dancy and John Lithgow in a movie she wrote called Late Night. Mindy Kaling is a massive success with a long career ahead of her, and she didn't just get it from nepotism or luck. How can anyone not admire her?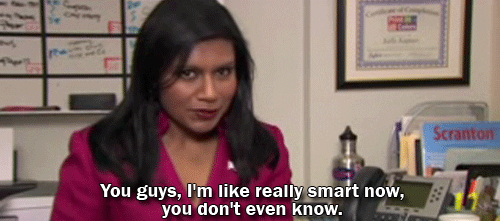 More: Here Are the Women Who Will Dominate the Summer 2018 Box Office
She keeps her private life, well… private
No one ever knows what's going on in Kaling's personal life or who she's dating (save her costar/former boyfriend/current close friend B. J. Novak, that is). Kaling makes the news for newsworthy stuff — projects she's working on, movies she's been cast in or books she's writing. Kaling has worked hard to maintain a certain level of privacy and to ensure she's being recognized for what matters — her work. Huzzah!
Then there's the whole single mom thing
Listen, ladies, we all know women don't need a man by their side, especially not when it comes to being great mothers.
For me, as someone who doesn't date a ton and has spent most of her life single (I'm totally OK with that, FYI), it's wonderful to have Kaling to identify with. It makes me feel less insecure that I'm not living the life society expects of me: as a married woman with children. And one day, if I want to have kids outside a relationship, by golly, I'm going to do it! Because if Kaling can, so can I.
"After my daughter was born in December, I remember bringing her home and being in my house with her for the first time and thinking, 'Huh. According to movies and TV, this is traditionally the time when my mother and spouse are supposed to be here, sharing this experience with me,'" Kaling recently said in a commencement speech. "And I looked around, and I had neither. And for a moment, it was kind of scary. Like, 'Can I do this by myself?' That feeling went away, because the reality is, I'm not doing it by myself. I'm surrounded by family and friends who love and support me. And the joy I feel from being with my daughter Katherine eclipses anything from any crazy checklist."
Anyone else burning their life checklists right now?
More: Mindy Kaling Loves Having One-Sided Chats With Her Baby Daughter
And all that body-positivity
Kaling has made me love myself and my body. A body that in the past has made me feel self-conscious and less than beautiful. A body that is curvy, fluctuates in weight, and — now that I'm 32, I notice — gets better with age (or maybe I just appreciate it more).
Kaling happily discusses her body and self-image: "Being called fat, being called not pretty, these are just weapons that men can use against women that we can't use against them," Kaling told Refinery 29. "I am fairly impervious to when people say those things about me, because it's like, well, I was born this way and I can't really change that."
And as much as Kaling inspires fans by accepting and loving her own body, she also encourages them to think about something else. "Thinking about body image is such a small part of what I use my brain for, and I want other women to follow suit," she told Glamour.
More: Mindy Kaling's Great Baby Daddy Mystery
So, Mindy Kaling, thank you for being you and thank you for continuing to impact me on a daily basis.
Now, let's all go on our merry ways living with this quote from Kaling's Darmoth College commencement speech as our mantra:
"Don't let anyone tell you that you can't do something, but especially not yourself. Go conquer the world. Just remember this: Why not you? You've made it this far."