Ever since Legally Blonde hit theaters in 2001, it's been a cultural touchstone. Not only does it have a sequel (Legally Blonde: Red, White & Blonde, released in 2003), it's also been adapted into a stage musical that's still touring the country — and now, according to Deadline, MGM Studios is close to inking a deal for Legally Blonde 3. OMG, this is the best news ever.
More: All of Reese Witherspoon's Best Roles, Ranked
Deadline reports that Reese Witherspoon will return as the iconic character Elle Woods, who defied the odds and went to Harvard Law School in the original film, then overturned an animal testing law in the sequel to save dogs like her Chihuahua, Bruiser Woods, from being abused in labs. She's always been a badass, and we so glad Witherspoon is looking to return to the role. We honestly couldn't imagine anyone else taking on the role, TBH.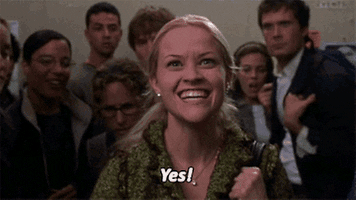 Plus, this time around, Witherspoon will coproduce under her Hello Sunshine banner alongside Legally Blonde producer Marc Platt and his Platt Productions president Adam Siegel. Writers Kirsten "Kiwi" Smith and Karen McCullah are in final talks to write the script for Legally Blonde 3; they also adapted the Amanda Brown novel of the same name for the first film.
There's no word yet on what the plot will be for this new film or who else will be joining Witherspoon from the original cast. We're dying to know about Bruiser, Elle's boo Emmett (played in the first two films by Luke Wilson), Vivian (played by Selma Blair) and Paulette (played by Jennifer Coolidge). What's everyone up to? What will Elle conquer next? And what's she been up to for the last 15 years?
In 2017, Witherspoon went on The Late Late Show and told host James Corden she would love to see what Elle has been up to all this time. To this, Corden suggested Elle could be the first female POTUS. Witherspoon agreed, then added, "She could be a Supreme Court justice or she could be, like, a really great, powerful attorney or she could be in prison. She could be anything!"

In 2016, Witherspoon celebrated the 15-year anniversary of the first Legally Blonde by trying on the 60 outfits she kept from filming and posting the journey on Snapchat. She also shared several photos on Instagram, did an interview with the platform and filmed an instructional video on how to bend and snap.

More: Reese Witherspoon Is Here for Pink's Clapback at a Twitter Troll — & We Are Too
We'll be paying close attention to more news about this movie because we can't wait to see Elle Woods on the big screen again. In 2018, we need her pink, scented optimism more than ever.