TV powerhouse Ryan Murphy has done it again. His latest television creation, Pose, premiered on FX on Sunday, and we couldn't have been more excited about it. The series, set in 1987 and focused squarely on the ball culture sweeping through Harlem and the queer men and women searching for their place in the world, had our names written all over it. The melodrama! The glam! The music! The fashion! Honey, we're all in.
What we're also very into is the way in which this show has been cast and written, mostly because it's so groundbreaking but also because, in no uncertain terms, it's a seriously great show. Pose first made headlines in October 2017 when it was announced that its main cast would be comprised of the largest number of queer and transgender actors of color ever seen on TV — an unprecedented move. This is not only a selling point for the show, but it's a coup for inclusivity in a time when artists are striving to more positively and accurately represent the world around us and give a spotlight to marginalized communities.
After all the buildup, finally watching Pose was thrilling and magical and left us feeling a lot of feelings and thinking a lot of thoughts. Here are some of them.
Note: This post contains spoilers of the Pose premiere episode.
More: Every TV Show That's Been Renewed in 2018 — So Far
1. We are so in love with this '80s vibe right now
From the music to the over-the-top costumes to the casual reference to Desperately Seeking Susan, Pose was amazing right from the jump, if only because it placed us right into the heart of 1987 — and did it so well.
2. Ball culture is alive & well — yes!
Every ball scene sent shivers up our spines, but that first ball scene was pulsing with energy and fierceness, and it had us dying for more. If this is what Pose will be focusing on, then consider us loyal viewers.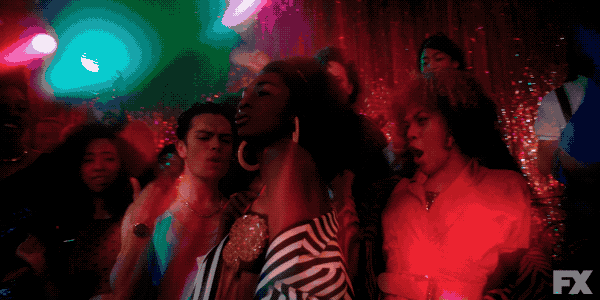 3. Blanca is the TV hero we've been waiting our whole lives for
As portrayed by Mj Rodriguez, Blanca Rodriguez is such a well-rounded character. Full of depth and heart and not defined by sexual preferences or gender, having Blanca at the center of the show and making her a queer icon from the very beginning is so powerful.
4. These soapy moments are a bit much, but we get it
OK, so, Pose admittedly gets carried away with its soapier moments. They brush up against tropey queer storylines (the scenes in which Damon, played by Ryan Jamaal Swain, gets thrown out of his house by his parents for being gay and Blanca gets diagnosed with HIV are particularly notable), but luckily, Pose doesn't dwell on them and uses them to build characters, not define them by those struggles. And remember: This is a Ryan Murphy show, so a little soapy melodrama is to be expected.
5. Wow, it took 30 minutes for a straight, white person to show up?!
It is such a subtle power move, but it's so refreshing that it takes Pose a good, long while before any cisgender, white, straight characters come into the story. By focusing on establishing the show's central queer cast, Pose has made it clear they will always have the spotlight and their stories matter the most here; that's huge, even by 2018 standards.
6. Ugh, no Trump comments, please & thank you
We get it. We get it. It's the late '80s, Donald Trump's heyday. But it's hard not to bristle just the tiniest bit hearing his name dropped on more than one occasion in this pilot episode, however fitting it may be.
More: Every TV Show That's Been Canceled in 2018 — So Far
7. Aw, we're really into this Angel-Stan romance
In most shows, a forbidden romance between a married man and a trans female sex worker may seem like a stereotypical, hokey plotline. In Pose, watching the gentle romance blossom between Stan (played by Murphy favorite Evan Peters) and Angel (portrayed by Indya Moore) in that motel room really tugged at our heartstrings.
8. OK, are we the only ones, or is Pray Tell an instant icon?
Broadway actor Billy Porter as ball MC Pray Tell, with all the fierce commentary, is already one of our faves.
9. This challenge between the two houses is going to kill me
Watching the House of Abundance face off against the newly formed House of Evangelista was everything. It was perfect. It was dramatic. It was legendary. Watching this rivalry form and knowing it will continue on through Season 1 only made this scene even more fun to watch.
10. If Damon doesn't get into The New School with this Whitney Houston/Flashdance audition…
We were crying watching Damon's exuberant audition for The New School, and knowing that he's actually going to be a student after that performance only makes us happier.
11. The House of Evangelista uniting as one is all we need
Watching this house come together over the course of the premiere was nothing short of delightful, and it's going to be fun to see where they go as a family in Season 1.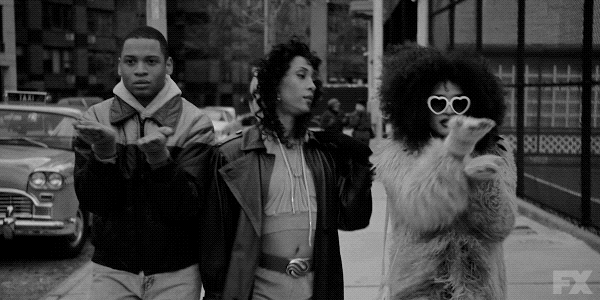 More: Hollywood Movie Stars Who Aren't Above Doing TV
The Pose premiere was easily one of the best pilots in 2018, and thankfully, it has set the tone for a show that will continue to be revolutionary, exciting and definitely worth watching. Don't sleep on this show, folks, because it's seriously so good.