Am I the Only Grey's Anatomy Fan Rooting for Jackson & Maggie?
May 7, 2018 at 1:00 p.m. ET
Couples routinely come and go on Grey's Anatomy. The on-call room at Grey Sloan is more synonymous with makeups and breakups (read: hot sex on both sides of that fence) than it is with sleep. But perhaps never in the history of ABC's medical drama has a pairing pissed people off more than Jackson Avery and Maggie Pierce. And while I often find myself feeling the same tide of emotions as other fans, in this regard I'm different: I actually think Jackson and Maggie make a great couple.
More: 10 Struggles Every Grey's Anatomy Fan Knows to Be Real
OK, so I'm probably not the only fan who's rooting for Jackson and Maggie (aka "Jaggie"), but I'm certainly in the minority. A simple scan of Twitter on any given Thursday night during their scenes suggests that the number of #TeamJaggie fans is small, and we face an uphill battle. It seems most fans are seriously salty over this latest romance and aren't afraid to say so.
The root of the disdain, of course, is the fact that so many fans still dream of a future that includes Jackson and his ex-wife, April Kepner. The devotion to Jackson and April ("Japril") is no joke, y'all. People will still be beating that drum long after Sarah Drew, who plays April, leaves the show at the end of Season 14. That's just it, though — April won't be a character on Grey's anymore. That relationship can't even be a factor. Besides, let's not pretend that Jackson and April didn't have their own issues.
I'll be the first to admit I wasn't 100 percent keen on Maggie when she first came to the show. I found her a bit whiny and immature. But she's experienced tremendous growth over the last few years! She's smart, loyal, funny, endearingly awkward and relatable. She deserves to be happy too, right? And Jackson is going to move on, so why not with Maggie?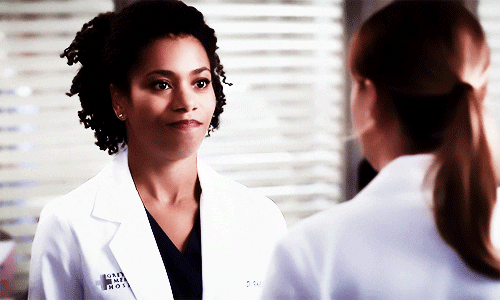 To be clear, these two are not related. Everyone can stop sounding the incest alarm (this isn't Game of Thrones, people). Jackson and Maggie are only step-siblings, and they didn't even meet until they were both well into adulthood. Would it make things awkward around the dinner table on holidays? Maybe. Would it be a tad confusing for their future children? Possibly. But there is nothing wrong with Jackson and Maggie being together romantically.
More: These Grey's Anatomy Fan Favorites Are Officially Done
The only thing standing in the way of Jaggie becoming a beloved Grey's 'ship at this point is April, which means we have to discuss how Grey's will get April out of the way so that fans have the emotional bandwidth to cheer on Jaggie. Unlike previous Grey's characters who have met brutal, untimely ends, there's actually a way to give Jackson, Maggie and April a happy ending thanks to a recent development in April's personal life, which she hinted at in the Season 14 episode "Judgment Day."
After accidentally ingesting a few marijuana-laced cookies, April blurts out to an equally high Miranda Bailey that she's "been seeing someone." While we don't yet know who that someone is, it could very well be the person responsible for April's exit. Fans would no longer feel guilty about admitting that they kinda sorta do like Jackson with Maggie because, in this scenario, April has her own happy ending in store.
More: This Is How Grey's Anatomy Affects Our View of Medical Care
Pin
Hear that, Japril shippers? It's time to let that 'ship go and embrace a new one. Think of it this way; If it works out, Maggie and Jackson will grow on you. If it doesn't, you'll still have "I knew they were doomed from the start" bragging rights. It's a win-win.