Kim Kardashian West is ready to talk about Tristan Thompson. Y'know, the guy who allegedly cheated on her sister, Khloé Kardashian, during her pregnancy and quite possibly for the duration of their nearly two-year relationship?
More: Khloé Kardashian Fans Won't Stop Trolling Tristan Thompson
Kardashian West has been pretty quiet up until now about the entire scandal, which came to light through outlets like TMZ mere days before Kardashian gave birth to her first child, daughter True Thompson, on April 12. Kardashian West decided to let her real feelings come through, though, in a still-unaired interview on The Ellen DeGeneres Show.
In the preview clip posted on TMZ, DeGeneres asks her longtime friend if she has anything to say about Thompson's cheating scandal. Kardashian West, taking a well-timed sip from her mug, takes a moment to put her comment together. She then bluntly replies, "Like, I don't even know how to describe it besides it's just so fucked up."
Oh yeah, sis? Tell us how you really feel, why dontcha?
Kardashian West comments at another point in the interview, "We were really rooting for Khloé — and we still are! She's so strong and she's doing the best that she can. It's a really sad situation all over. I kinda made this rule with my brother [Rob Kardashian, who has problems of his own with Blac Chyna, the mother of his child, Dream]: If there's a baby involved, I'm gonna keep it cute, keep it classy and not talk too bad. I'm going to try to not say anything so negative because one day, True is going to see [this interview.]"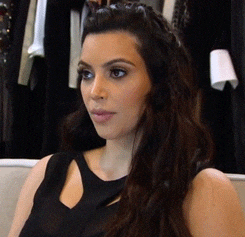 More: Kim Kardashian West Shares First Pic of Her Whole Family, & Here Come the Kim-Shamers
It's definitely nice to see Kardashian West trying to stay on the classy side of things, although you can see she's pretty annoyed by the entire scandal in the first portion of the clip. It's totally understandable too. She's not just going to up and take Thompson's side in this scandal, the full extent of which is unknown at this time. It's believed there were multiple women Thompson was romantically linked to, but with neither Thompson nor Kardashian commenting on the cheating rumors at this time, Kardashian West's remarks on Ellen are the only confirmation we have that somebody messed up — and it's not Khloé Kardashian.