We are in the middle of a major Queer Eye renaissance, honey, and the good news from this corner of the world of pop culture keeps rolling on in. After a successful Netflix reboot of Queer Eye (the "for the Straight Guy" portion of the original title has been dropped for a more modern feel) premiered earlier this year, viewers became as obsessed with the new crop of Queer Eye boys. From our obsession with Jonathan Van Ness' quippy charm to the pure angelic hotness of Antoni Porowski to the triumphant joy of a Queer Eye makeover subject finding love with a former spouse, the Queer Eye reboot has provided us with an embarrassment of feel-good riches. But what about original Queer Eye fellas? What are they getting up to these days?
More: Queer Eye's Favorite Couple, Tom & Abby, Made a Huge Relationship Announcement
Well, as of Thursday afternoon, I can confirm that at least two of the original Queer Eye guys are making their major TV comeback with a new show on Bravo. According to E! News, Queer Eye stars Carson Kressley and Thom Filicia will be heading to Bravo with a show currently titled The Thom and Carson Project. This means the comedic, stylish genius of Queer Eye's first style consultant will be paired with the stealth perfection of Queer Eye's first interior design specialist, and they're coming to Bravo, my favorite channel — and I am already all the way in.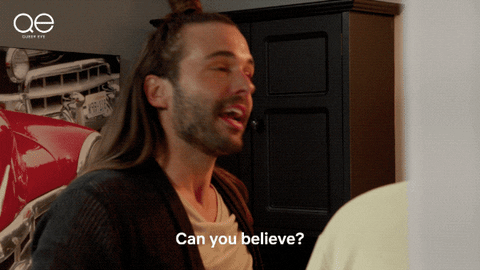 The show, as described by E!, will see "Filicia [take] Kressley under his wing to teach him interior design by channeling the latter's impeccable fashion sense. The duo will create breathtaking and affordable home re-designs for their clients using their expert skills and their signature charm." OK, now you've reeled me in even further, guys, so just give me the pilot episode already. Or, better yet, the full season! Mama is ready to b-i-n-g-e.
Both Kressley and Filicia announced the happy news on their respective Instagram accounts. Accompanying a photo of the report from another news outlets, Kressley wrote, "Guess who's headed back to @bravotv!!!" Filicia posted a similar photo, writing, "We're Baaaack! Hoping you will all come along on this new journey with old friends," and paired the caption with a house emoji, hammer emoji and two hands raised in excitement emoji.
It's been a hot minute since Kressley or Filicia have been on our TV screens in their lifestyle/makeover niche. To be fair, Kressley hasn't exactly been away from television for too long. He's appeared as a judge on multiple episodes of RuPaul's Drag Race since 2015 and had a particularly memorable turn on The Apprentice in 2017. In fact, since the original Queer Eye wrapped in 2007, Kressley's TV credits include guest host stints on Live! with Kelly, The Real Housewives of Beverly Hills and The Doctors. Kressley hasn't taken too much time off, but it'll certainly be good to see him back in action in a role very similar to the one he originated on Queer Eye.
Filicia has kept a somewhat lower profile, although he has appeared on other TV shows since Queer Eye wrapped, including Late Night with Jimmy Fallon, Million Dollar Contractor and Dress My Nest. He's also been showing off his design chops on Instagram, treating us to the latest design styles and giving us an itch to see him back in action on television. And he's the owner of Thom Filicia Inc., a design firm based in New York City, so it's no wonder that Filicia is keeping us updated on his latest project as just a taste of what he's doing in real life.
More: Dancing With the Stars: Carson Kressley Knew He Was "Toast"
Now, it looks like that wish will finally come true. While there's no premiere date set for The Thom and Carson Project, you can bet your boots I — like many original Queer Eye fans — will be setting aside some room in my weekly TV schedule to sit down and watch each new episode as it airs.