Updated April 13, 2018, 7:50 a.m. PT: The official casting announcement for Dancing With the Stars Season 26, which will be a four-week mini-season featuring only athletes as contestants, happened early Friday morning on Good Morning America. As is tradition, the DWTS pros joined the GMA team in teasing the audience with sleek choreographed dance numbers before joining the contestants backstage and then emerging pair by pair, announcing the athletes competing this mini-season.
We already knew there was some Olympic star power in the mix, with news emerging a week ahead of the official announcement that Adam Rippon, Tonya Harding and Jamie Anderson had been cast. While this was unconfirmed by ABC, it turns out this intel was true as all three athletes joined their dance partners onstage.
These three will be joined by the following athletes, and they'll all be competing for that coveted Mirrorball Trophy: Notre Dame basketball star Arike Ogunbowale, Olympic luger Chris Mazdzer, Olympic softball pitcher Jennie Finch Daigle, retired pro baseball star Johnny Damon, Washington Redskins footballer Josh Norman, retired basketball star Kareem Abdul-Jabbar and Olympic figure skater Mirai Nagasu. Talk about a stacked cast!
Per Variety's report on the official Season 26 lineup, here are the official pairings between the athletes and the DWTS pros.
Adam Rippon with Jenna Johnson
Arike Ogunbowale with Gleb Savchenko
Chris Mazdzer with Witney Carson
Jamie Anderson with Artem Chigvintsev
Jennie Finch Daigle with Keo Motsepe
Johnny Damon with Emma Slater
Josh Norman with Sharna Burgess
Kareem Abdul-Jabbar with Lindsay Arnold
Mirai Nagasu with Alan Bersten
Tonya Harding with Sasha Farber
Original story, published April 5, 2018, 8:30 a.m. PT: Fans of Dancing with the Stars know that each season, the athletes tend to do pretty well. And why wouldn't they? They have a serious advantage over other competitors because they're prepared for the physical rigors of constant training and the rehearsal schedule for the show. They're less likely to get injured, and they're used to the pressure of high-stakes competition.
This season, there will be no advantages because it will feature an all-athlete cast. The full cast announcement isn't coming until Friday, April 13, but the first three athletes to sign on to compete have been revealed, and they're three heavy-hitters from the pantheon of Olympic all-stars. According to the latest report from Entertainment Tonight, chances are good we'll see 2018 Winter Olympics champs snowboarder Jamie Anderson and figure skater Adam Rippon join the DWTS athlete-centric lineup along with former Olympian and pop-culture icon, Tonya Harding.
More: 13 Dancing With the Stars Feuds We're Still Not Over
ABC hasn't confirmed this news, but the network typically doesn't comment when casting leaks occur ahead of an official announcement. We don't know yet what other celebrity athletes we're going to see round out this cast, but we're super-stoked about the first three. Here are a few reasons.
Jamie Anderson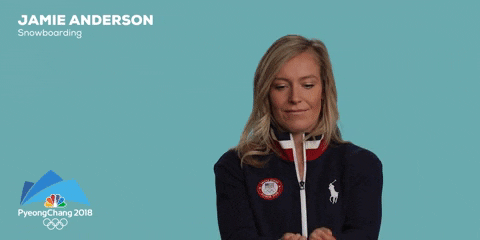 Anderson is the only female snowboarder to win multiple gold medals; she won the inaugural slopestyle event in the 2014 Winter Olympics in Russia and then repeated that at this year's Olympics in Pyeongchang. Also, she's just hilarious and adorable (I'll refer you to the glitter-throwin' GIF above).
Anderson is also coming in hot off competing in the 2018 Winter Olympics, so she's in top shape. But she competes in a truly solo sport, so working in a team may put her at a disadvantage compared to other athletes who are used to working well with others. Still, her competitive nature may just come through and surprise us all.
Adam Rippon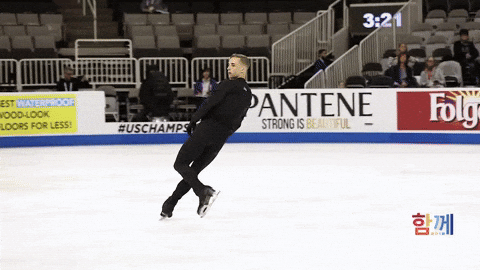 Like Anderson, Rippon just competed in this year's Olympics, so he's also in top shape. He has the added advantage of being a figure skater, which means his training and skills are very similar to those of a dancer, except he does it on slippery ice with blades on his feet — which sounds way harder if you ask me. Pulling off these moves in regular shoes on a floor with actual traction seems like it'll be a breeze for this dude.
Rippon is sure to be a fan favorite after he became an internet sensation during the Pyeongchang Olympics. But from what we can tell from some Googling, he's never competed in pairs skating. The fact that he's used to flying solo may be detrimental when it comes time to pull off complex moves with a partner.
More: 14 Questions With Adam Rippon, the First Openly Gay Figure Skater to Make Team USA
Tonya Harding
Harding has a very complex history, both in the world of sports and in pop culture. After rising to the top of the figure skating world in the late '80s and early '90s, she became more villain than hero after she was accused of orchestrating an attack on fellow skater Nancy Kerrigan. The ensuing public debate about whether Harding actually had a hand in Kerrigan's injury resulted in her being banned from competitive skating for life.
She's recently come somewhat back into the public's good graces after the award-winning film I, Tonya portrayed her as an abused woman, consistently victimized by those she loved and pressured to do whatever it took to win. Harding's definitely going to be controversial on this season of DWTS, but her figure skating background will likely translate well to the dance floor.
Harding hasn't competed in some time, though, which could be a disadvantage when she arrives on the DWTS dance floor. She was briefly a competitive boxer, but quit in 2004 because of her asthma. The fact that she isn't in competition-ready shape puts her a step behind some of the other athletes who have signed on to compete, but Harding has been a scrappy competitor all her life, so we have no doubt she'll do well.
More: These DWTS Contestants Allegedly Did More With Their Partners Than Just Dance
This athlete-focused season of DWTS is short — only four weeks. That means we're not sure how many total athletes will compete, but we do know eliminations will be coming fast and furious. Out of these first competitors to be revealed, though, my money is on Rippon to make it far. He's a top-tier athlete with dance experience, and he's bound to compete with joy and a happy attitude, which can only help.
Dancing with the Stars: Athletes premieres on Monday, April 30 on ABC.