Mandy Moore exploded onto the pop scene in 1999 with the single "Candy," off her debut album, So Real. Disney played the single's music video almost on loop, it hit the Total Request Live Top 10 a few times and it peaked at No. 41 on the Billboard Hot 100. Moore was just 15 when she was "missing you like candy," and in the 19 years since the single's release, she's taken Hollywood by storm.
With six studio albums now under her belt, the pop star has crossed over into acting, fashion design and philanthropy. Moore made her film debut in 2001, voicing one of the animals in Dr. Dolittle 2, then starred opposite Anne Hathaway in Disney's The Princess Diaries. And of course, we can't forget her moving performance as Jamie Sullivan in A Walk to Remember in 2002.
Most recently, Moore has been breaking our hearts every week as Rebecca Pearson on This Is Us.
More: Mandy Moore Receives Emergency Stitches After Giving Herself a Black Eye
With every step Moore takes, one thing remains totally, utterly unarguable: we love her. So, in honor of her 34th birthday on April 10, we've compiled a list of some of her best moments in Hollywood. Get the tissues ready — trust me, for some of these moments, you'll need them!
The "Candy" music video, 1999

As they always say, let's begin at the beginning. Without this bubblegum pop single, we wouldn't know Mandy Moore at all. She's grown up a lot since this music video was released, but the song is still a bop. It was on Starbucks' Halloween playlist last year, probably just for the title. "Candy" was still fun to hear when we went for our pumpkin spice lattes.
Her villainous role in The Princess Diaries, 2001

In February, Moore shared the sweetest throwback on her Instagram account: posing with Dame Julie Andrews and the hilarious Heather Matarazzo on the set of Disney's The Princess Diaries. Moore played Lana Thomas, the popular cheerleader who loved to antagonize Mia Thermopolis (Anne Hathaway) until Mia was outed as a princess and Lana wanted a piece of her fame.
Oh, and Moore also did a cover of "Stupid Cupid" for the movie and soundtrack, and it was adorable.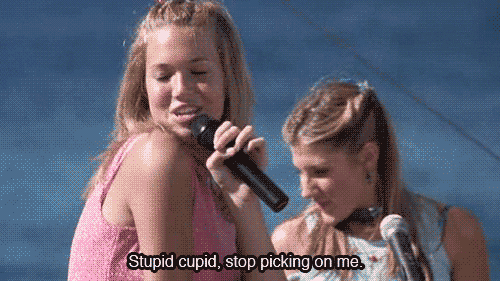 The super-sweet "Crush" music video, 2001

"Crush" was Moore's second single off her self-titled album and her first song to hit No. 1 on MTV's Total Request Live. It might be her best video ever — and not just because of the chimpanzees, though they're a super-cute bonus.
More: Mandy Moore's Engagement Party Was So Mandy Moore
Her heartbreaking turn in A Walk to Remember, 2002

Moore reunited with A Walk to Remember costar Shane West in 2017 to celebrate the film's 15-year anniversary. It was her first leading role, and the soundtrack heavily featured Moore's music, including a duet with Switchfoot lead singer Jonathan Foreman.
When she got Punk'd by Ashton Kutcher in 2003
This whole episode is a flashback to early 2000s culture, when Ashton Kutcher was a household name. On MTV's Punk'd, Kutcher and his friends pulled wild practical jokes on popular celebrities, who often lost their cool before they were let in on the joke. In Season 1, Episode 2, Moore is told she's going on another MTV show, only for everything to come crashing down. Literally. And Dax Shepard is one of the jokers. It's a really good laugh.
Her fashion line, Mblem (2004-2009)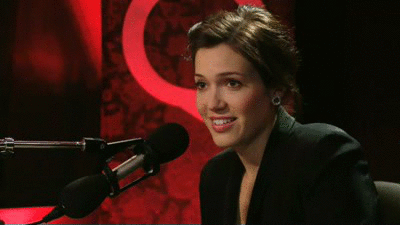 Although Moore's foray into fashion design lasted just five short years, she's always been a fashion icon. She's changed her haircut and color and her style over the years as she's grown up, and the classy, understated version of her we see on red carpets today may just be our favorite.
Her rebellious stage in Chasing Liberty, 2004

Movies about fictional presidents' kids were super-popular in the early aughts, and Chasing Liberty was (in our biased opinion) one of the best. In some ways, this role marked a more mature turn in Moore's acting. Her role in Chasing Liberty was racier than her previous roles, and in the same year, she starred in Saved! which dealt with far more serious subject matter. She handled both roles with aplomb.
More: Mandy Moore's Road to Love & Success Wasn't Always Easy
When she transitioned to being a singer-songwriter with Wild Hope, 2007

After her third studio album, Moore moved away from the bubblegum pop she was known for performing. She released Coverage in 2003, which featured covers of classic rock hits that inspired her personal sound. Then in 2007, she released Wild Hope, the first album she completely co-wrote. Despite its lukewarm critical reception, several fans cite it as an all-time fave.
When she guest starred on Grey's Anatomy, 2010
https://youtube.com/watch?v=LJAMd7eA6Vo%3Fstart%3D152
Moore's four-episode run as Mary Portman on Grey's Anatomy began in one of the most heart-stopping episodes of the series, when there was an active shooter in the hospital. She played a patient with a colostomy bag seeking reversal surgery to have it removed. Like a lot of plot lines on this series, this one was really sad, and Moore executed the role flawlessly.
When she joined the ranks of Disney princesses in Tangled, 2010

Costarring with Zachary Levi, Moore voiced Rapunzel in Disney's Tangled, a film that's as much about finding your own way as it is about breaking off toxic relationships. Moore also contributed to the soundtrack for the film, singing in character for the role.
When she scared the crap out of us in 47 Meters Down, 2017

Movies like Jaws and Open Water play on a very specific fear, and 47 Meters Down (based on a true story) plays on the same one: abandoned in the ocean, surrounded by sharks. Surely the only thing to come next is death. Right? This role was far off the beaten path for Moore, and it was terrifying.
When she said she wants to return to making music, 2017

At last year's NBC Upfronts, Moore told a reporter for Access Hollywood that she's had a "wealth of life experience since I last put out music, so I think I have plenty of stuff to cherry pick from that's happened in my life" to write music about. She also said that singing on This Is Us had "lit a fire" in her, and we hope that means she'll release some new tunes!
More: Best TV Mom Mandy Moore Might Adopt in Real Life
When she broke our hearts in the Super Bowl Sunday episode of This Is Us, 2018

This Is Us makes us cry frequently, but Moore's performance as Rebecca Pearson in Season 2, Episode 14 was devastating. In a stunning display of how much Moore has matured and improved as an actress since her film debut, Rebecca ripped our hearts out when she received news of her husband Jack's unexpected death.
Moore has received a ton of award nominations for This Is Us, and it's easy to see why. She clearly has a long career ahead of her, and we can't wait to see what's next.