Barack Obama, how do I adore thee? Let me count the ways.
If I actually counted, we'd be here all day, but the former POTUS has just given me a new way to adore him and you might actually find this news as wonderful as I do. Obama, former first lady Michelle Obama and Netflix are — brace yourselves — reportedly in advanced talks to solidify a deal that would not only change the streaming platform forever but also be a history-making move.
More: Barack Obama Gave Michelle the Perfect Birthday Gift, Because Obviously
According to The New York Times, Barack is in advanced talks with Netflix to produce a series of "high-profile shows." It's not disclosed how much their paycheck will be, but the Obamas will likely get paid a substantial sum to create what sounds like more than one series for the more than 118 million subscribers on Netflix.
Oddly enough, it's unclear what "high-profile" means in this instance. Does it mean the Obamas would create documentaries? Make a foray into the world of fictional storytelling? Copy the talk-show-on-Netflix approach of Chelsea Handler and David Letterman? The possibilities seem endless at this point, and the NYT indicates that these series could include Barack sitting down with various figures to interview them on a multitude of sociopolitical issues. Basically, it's very hard not to get excited about what the Obamas' vision for these Netflix series could be.
More: Live Like a President in the Obamas' Old Seaside Escape
NYT does report that, according to sources they spoke with, neither Barack nor Michelle are interested in creating programming that comments on President Donald Trump, his administration or anything remotely connected to his administration. In my opinion, that's a major win. Not only is it silly to try and pit one president against another, but why would the Obamas waste their newly minted gigs as Netflix producers on the current president when there are so many other topics and people to focus on? Good move, y'all.
As The Hollywood Reporter notes, this kind of move is a history-making one for a former president. While we've had presidents who have moved from the world of film and television into the position of commander-in-chief, we've never really had a president take the reverse route. This interesting move from Barack is not only unconventional in the best way, it's yet another example of how he wants to stay connected to the constituents he once presided over.
More: That Time Barack Obama Showed Prince His "Dad Moves"
The Obamas have maintained a relatively low profile since exiting the White House in January 2017. They've been focused on their philanthropic work via their foundation, The Obama Foundation, while also appearing at various public events and discussions. Barack was recently on Netflix, in fact, as a guest of Letterman's on his new show My Next Guest Needs No Introduction with David Letterman. The Obamas also recently made wonderful waves at the National Portrait Gallery in Washington, D.C., where their vibrant, symbolic portraits were unveiled to the populace.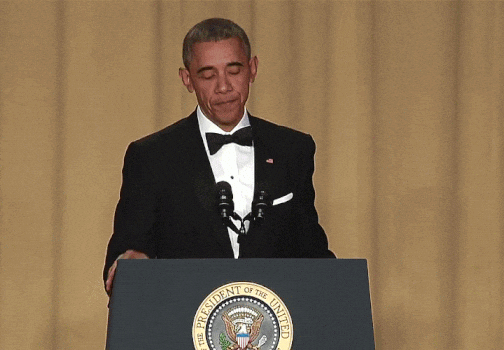 This history-making Netflix deal is not the only avenue the Obamas are taking in maintaining some presence in the cultural consciousness. Back in March 2017, each of them signed on the dotted line for a $60 million deal with Penguin Random House to write their own books about their time in the White House. So, basically, if this news tells you anything, it's that the Obamas still love us enough to want to share their lives and creative visions with us, which is maybe the biggest silver lining in 2018 thus far.