If you're a Parks and Recreation fan like me, you might want to sit down while reading this because what you're about to see is so lovely, so glorious, so girl-powered in it delightfulness that you may just float away on cloud nine because of it.
More: 14 TV Friend Groups We'd Actually Want to Hang With
Do you remember the moment on Parks and Rec when you first heard about Galentine's Day? The holiday that happened on Feb. 13 and was meant to be celebrated among lady friends? As the show's main character, Leslie Knope, put it, "Galentine's Day is about celebrating lady friends," which means that we women of the world have an extra-special reason to get together and celebrate our sisterhood. That's what must have happened on Tuesday, Feb. 13 when the women of Parks and Rec got together to celebrate it and, better still, post proof of it on their respective Instagram accounts. Be still be beating heart!

More: Amy Poehler's Funniest Moments Throughout the Years
As you can see from the photo above, it looks like core Parks and Rec lady trio — Amy Poehler, Rashida Jones and Aubrey Plaza — joined forces with Kathryn Hahn (who played Jen Barkley on later seasons) to celebrate Galentine's Day and in so doing managed to melt all of us into a pool of love and nostalgia and happiness. "Galentine's Day! Forever and ever," Jones wrote as the caption to her photo. For their part, Plaza posted the same picture to her Instagram, writing, "happy happy galentine's day. these women keep me alive." Oh, my gosh, you guys!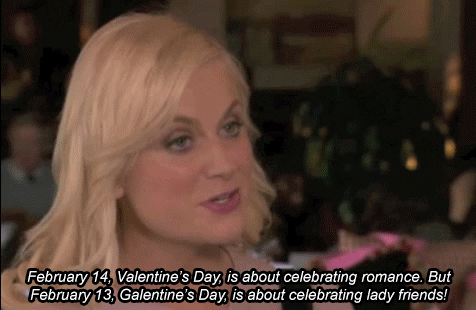 More: Rashida Jones Brings Out the Best in Nicole Richie
Seeing the sisterhood get back together is always a treat, and while the cast of Parks and Rec still stays in touch and supports one another at different events, there's just something extra special about seeing these women celebrate Galentine's Day. Thanks for making this year's Galentine's extra special, dear ladies of Parks and Rec.