Humboldt County, California, reportedly has the highest per capita rate of missing persons reports in the entire Golden State. That's something the North Coast Journal, a local Humboldt newspaper, is looking into. Last Sunday, the paper posted an investigative report seeking to discover why so many people are reported missing in the county. The article was posted to Facebook along with a slideshow of the 35 people currently reported missing. Then, commenters pointed out that one of them definitely isn't MIA.
She's on The Bachelor.
More: The Drama of Bachelor Arie Luyendyk Jr.'s Season Has Already Begun
Rebekah Martinez, currently a fan favorite contestant on Arie Luyendyk Jr.'s season of the show, was reported missing by her mother on Nov. 18. Since filming for The Bachelor started in late September, we can only assume that Martinez, known as Bekah M. on the show, left to compete for love and didn't tell her mom.
What's even better is that, according to the North Coast Journal, Martinez told her mom she was going to work on a marijuana farm. We can kind of understand not wanting to tell friends and family that you're going to be incommunicado because you're starting a stint on The Bachelor, but that is quite the excuse she came up with. A pot farm without cell service? Couldn't she have said she was going on a long, exotic vacation? A yoga retreat? This was the most mom-friendly excuse she could think of?
At the time this article was published, Martinez was still listed on the California Attorney General's website as a missing person.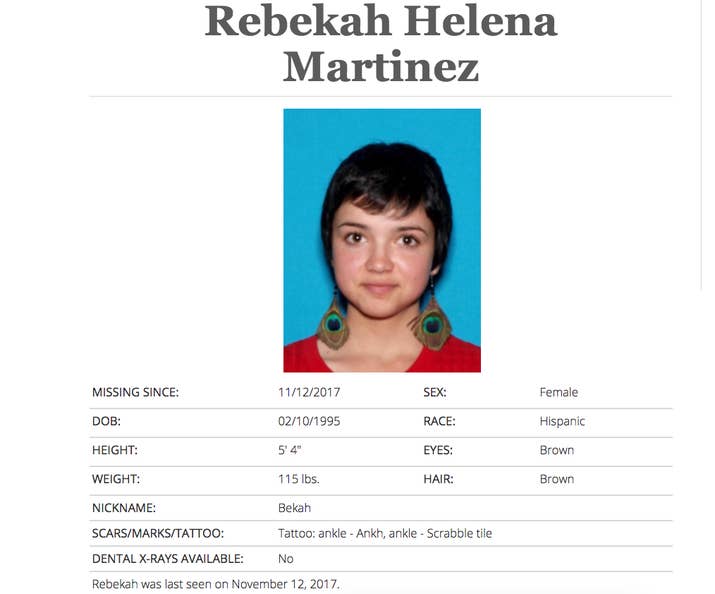 But the North Coast Journal reports that a Humboldt County Sheriff's Office deputy spoke with Martinez and she is no longer considered missing. And considering that Martinez appeared in a promo video for The Bachelor that aired on Nov. 18, the day her mom made the report, she probably never should have been.
Martinez, to her credit, is taking all of this in stride.
MOM. how many times do I have to tell you I don't get cell service on The Bachelor?? https://t.co/iYnxQCIZBt

— bekah martinez ♡ (@whats_ur_sign_) February 2, 2018

More: Arie Luyendyk Jr. Broke Up With His Girlfriend for The Bachelor — Ugh
There's a lesson here, folks. Even if you're embarrassed about being a burgeoning reality TV star, there are better cover stories than saying you're going to work on a backwoods marijuana farm. At the very least, come up with something that explains weeks without communication so your mom doesn't call the cops.