How much Bachelor is too much Bachelor? I think we've found the line, and that's coming from someone who is a die-hard fan of nearly every Bachelor Nation franchise. Ashley Iaconetti, otherwise known as "Kardashley" for her striking resemblance to Kim Kardashian (especially when she ugly cried), is one of the greatest contestants in Bachelor history. But should she have her own show? Not necessarily.
More: I Actually Feel Really Bad for Bachelor in Paradise's Ashley Iaconetti
Listen: What made Iaconetti such an entertaining and memorable contestant was her tendency to break down and ugly cry all over the confessional booth à la Kim K losing a diamond earring in the ocean every time something went remotely wrong. Chris Soules didn't pick her for a one-on-one? Ugly cry. Wells Adams friendzoned her? Ugly cry. Jared Haibon also friendzoned her? You guessed it: Time to ugly cry.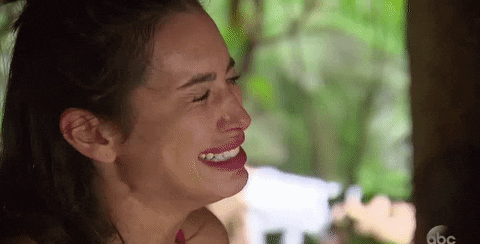 Iaconetti is reportedly now set to host The Story of Us, a KineticContentTV show that will stream on their channel's YouTube page, where she'll interview successful couples about what it takes to find love.
"I've been on The Bachelor franchise three frickin' times trying to find 'The One,'" she explains in a promo for the show. "But at the age of 29, here I am, single as fuck. So, instead of going on another reality show and trying to hunt down my husband, I'm going to hunt down success stories in this crazy time of Tinder, Bumble, Hinge. I'm going to sit down with seven couples and ask them all questions that I need answers to, like, 'How do you know when you've found the right one?' and 'Do soulmates even exist?' and what about monogamy? Is monogamy really that hard?' Because some people make it seem like it is, but I don't think so. But then again, what do I know?"

OK, but like, where's the drama? What's going to make Kardashley ugly cry? Are these just rando couples? This sounds like a bore fest, if you ask me.
More: The First Promo for Bachelor: Winter Games Is Emotional & Messy
I love me some Kardashley, but this show sounds boring AF. Thank God she's also going to appear on Bachelor: Winter Games, because that is the kind of Bachelor spin-off we're all here for.