The Heathers are back, and boy, am I nervous. No, it's not because the new generation of Heathers are terrifying (they might be worse than the originals, TBH), but because the rebooted Heathers TV show has big shoes to fill — and I'm not sure it will be able to do it. At the very least, after watching the first full-length red band trailer for Heathers the TV show, I have a lot of feelings.
You see, with the premiere of the trailer, we get our first glimpse into what will be a 10-episode Heathers TV show that reboots the 1989 black comedy starring Winona Ryder and Christian Slater. It's clear that the TV show is updating Heathers to fit with 2018's cultural norms while retaining the blacker-than-black comedic tone. Think the saltiness of Scream Queens with the acidity turned up to 11. Yeah, it's like, way harsh, you guys.
Just take a look at the trailer and see for yourself (be forewarned, the trailer might be a bit NSFW).

More: 27 Moments in Stranger Things That Gave Us Major '80s Flashbacks
From the get-go, you can see that the new Heathers is retaining the basic structure of the original Heathers. There's our protagonist, Veronica Sawyer, who is both fed up with and hungry to hang out with the Heathers. Her love interest is still the new kid in town (and likely an untreated sociopath), J.D. There's also the Heathers themselves: Heather Chandler, Heather Duke and Heather McNamara. They're thick as thieves and still get a kick out of being needlessly verbally abusive to their classmates in order to maintain their power at their high school. And yes, Veronica is still ready to channel her anger toward the Heathers into action — deadly action, that is.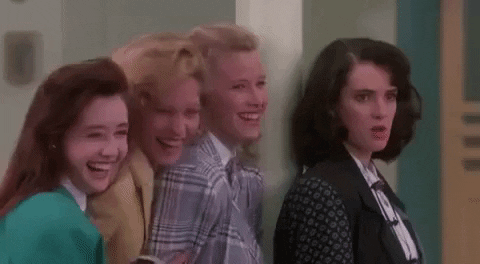 The trailer also makes sure there will be fun touches and references to the original Heathers. The new Veronica still writes manically in her diary while wearing a monocle, and it looks like there will still be games of croquet played from time to time. At one point, Shannen Doherty (who played Heather Duke in the original film) actually appears with a red scrunchie in her hair. Although it's not explicitly stated in the trailer, there's a good chance Doherty is reprising Heather Duke in some way because she's credited as "Heather" at IMDb. Keep an eye on that.
More: Curb Your Enthusiasm & 171 Shows Returning to TV Through 2018
It's also clear that murder and mayhem are still on Veronica and J.D.'s agenda as the trailer progresses. While it looks like J.D. is clearly driving this goal to its completion, the new Veronica looks just as unbothered when it appears she's successfully offed Heather Chandler right before school. All in a day's work, I guess. But while the basic plot structure of Heathers remains intact, there's something pretty unsettling about the reboot related to the characterization of the 2018 Heathers and what that means within the confines of the show's plot. You see, the terrible Heather trio is clearly not a bunch of thin, straight white women. Instead, they've been created with the intention of hitting specific modern stereotypes: Heather Chandler is a body-positive plus-size woman who rocks studded clothing like a boss. Heather Duke is a genderqueer (but frequently male-presenting) sycophant who sometimes carries a parasol around school. Heather McNamara is a young woman of color who seems to bear the brunt of Heather Chandler's bitchiness when they move as a group and readily compares a classmate to a Jim Henson Muppet.
More: No One Is More Deserving of This Sweet Tribute Than Shannen Doherty
And while it is all well and good — no, scratch that, it's actually great — that the Heathers are modern as hell and not trying to stick to heteronormative ideals, the fact that they are now inevitably going to be the targets of Veronica, a straight, thin white woman, is deeply troubling. Because unless there's a big twist in the plot, Veronica is going to be responsible for killing people who aren't like her; they're more progressive and positive versions of her (to an extent). So, Veronica will essentially be responsible for murdering a woman of color, a plus-size woman and a genderqueer teen. Guys, that's not just bad optics, it's a pretty sinister message to send to viewers.
It should also be noted that the script doesn't seem to address how the effects of bullying, both physical and emotional, are actually harmful out here in the real world and that bullies should be confronted. On the contrary, there is so much cattiness and shade being thrown around by the teens and the adults that it feels like we're listening to a rejected Glee script from 2009, before everyone realized you must be sensitive to the feelings of others.
At the end of the day, you'll need to just take the plunge and at least watch the Heathers pilot if you're either a fan of the original or even mildly curious about what this show will be like. But let's hope there's more to this reboot than meets the eye. As it stands, it looks like Heathers will be very much like the original — but in 2018, that might not be a good thing.