For a little over 30 years, Julia Louis-Dreyfus has been entertaining us with her comedic talents. She is a true superstar who continues to shine. I mean, talk about a force to be reckoned with. She is a powerhouse who has impacted Hollywood in truly amazing ways.
More: 20 Most Memorable Moments for Women in Entertainment in 2017
She is now a 56-year-old actress who continues to push boundaries and influence the lives of many, including me. There are many women I admire in the entertainment business, but there is something extra special about Louis-Dreyfus.
It's not even the fact that she is a phenomenal actress that pleases me so. It's who she is as a human being. She's real. She's seriously funny. She loves her family immensely. She cares about the planet. She wants the world to be a better place politically. She's a fighter for women and their rights. She has slowly tapped at the glass ceiling in hopes of shattering it for good.
If you think about it, what's not to love about her?
She's an influential career woman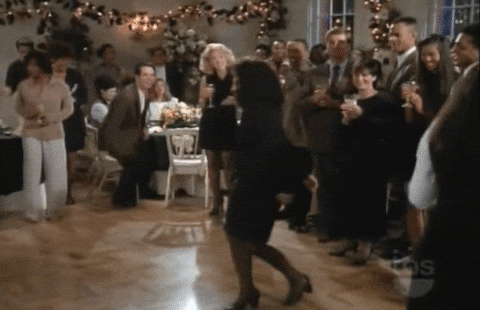 She has helped transform comedy in several of her roles. Most obviously, she really made it big as Elaine Benes in Seinfeld. Louis-Dreyfus held her own next to three men and even took home an Emmy for her character. Some of the most memorable moments from the still-beloved comedy are thanks to Elaine. Hello, do you see the dance in that GIF?
Believe it or not, but I first fell for Louis-Dreyfus as the lead character in The New Adventures of Old Christine, not in Seinfeld. Her character deserves all the praise, and not just because it scored Louis-Dreyfus yet another Emmy win. As Christine Campbell, a divorced mother, she showed it was OK to have imperfections. Yes, she was selfish at times, but as someone in her late 30s and early 40s, she was trying to figure out this new stage of her life, which many women could relate to.
Now, Louis-Dreyfus is once again leading her own comedy as Selina Meyer on Veep. She has shown that women are funny (shocking, I know) and can be a true success. Regarding the longevity of her career, she told Marie Claire in September, "I've followed my instinct. I've tried to be as thoughtful as I could be and pure in my thinking in terms of looking at projects and, by the way, the people who are attached to those projects. It's kind of like getting married to a stranger: You spend a lot of time together, and you have to be in sync creatively — and you can't always know that."
She has the best love life

It's rare to see a celebrity couple last, but Louis-Dreyfus and her husband, Brad Hall, have beaten the odds so far. Just this past June, they celebrated their 30th wedding anniversary. They are still head over heels in love with each other.
Hall and Louis-Dreyfus first met in college and have pretty much been inseparable ever since. As she told Craig Ferguson in April 2013 about how she knew Hall was "the one," "There were a couple of moments, some of which I will not share, but I would say that I knew almost immediately. It's really the truth."
I mean, how romantic is that? This is something you typically hear and see in the movies, but, nope, this is real life. They really are perfection — as you can see.
More: Heartfelt Reactions to Julia Louis-Dreyfus' Cancer Diagnosis Pour In
She rules award shows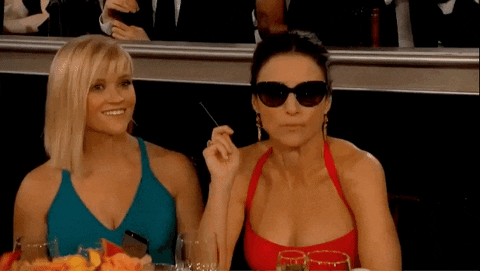 Can you imagine the Golden Globes or the Emmys without Louis-Dreyfus? She usually partakes in at least one bit at each award show — and makes the three-hour televised event worth every single minute. She doesn't take it too seriously and always manages to have a little bit of fun. Thank goodness for her or I might not even tune in.
She fights for women

As she does with each of her characters, Louis-Dreyfus is all about women taking charge. After winning her sixth Emmy for Veep in September, she said backstage (via USA Today), "Let's hope this is the beginning of something even better in our country and in the world, because I think the world would be a better place if more women were in charge."
To see someone play powerful women and to know that she wants women to take over the world, well, Louis-Dreyfus speaks straight to my heart.
More: 4 Times Elaine Benes Was a Champion for Women's Health
She's won a record number of Emmys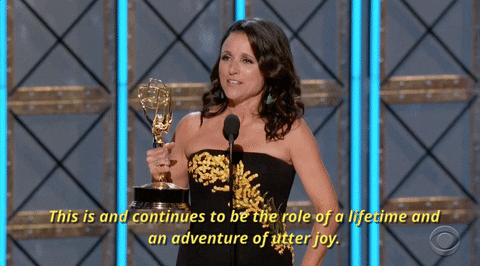 After winning her sixth consecutive Emmy for Veep, she broke a record: the most wins by a performer in the same role in the entire history of the Emmys. Total, Louis-Dreyfus has eight Emmys, which ties her with Cloris Leachman. Yes, Julia, yes!
To give you even more perspective of her success, she has a total of eight Golden Globe nominations and 18 Emmy nominations as either a supporting or leading actress.
She has a passion for politics

She doesn't pretend to know it all, but that also doesn't mean she's going to take a back seat, either. Louis-Dreyfus stands up for what she believes in and encourages others to do the same.
In March, she opened up to the Daily Beast about her involvement in politics: "There's only so much of this I want to discuss [with people]. I'm not an authority on campaigning. I don't understand a lot of the, I suppose you could say, nuances of the election. I mean, I do understand a lot of it, but a lot of it I don't. I don't want to speak like I'm an authority on it. And under certain circumstances I will."
She later added, about whether or not she would enter the political game herself, "It's funny because people have asked me since doing this show now for many years, would I go into politics. I'm not a politician! In that circumstance I'm a concerned American citizen and a patriot and wanted to say what I did. I'm not somebody who's going to run for office."
For those who think celebrities should be quiet about politics or the election, it's best to remember that they are people, too, and are allowed to care about the future of their country. The same goes for Louis-Dreyfus.
More: Veep's Final Season Is on Hold for Julia Louis-Dreyfus
She's not letting cancer win

In September, Louis-Dreyfus revealed that she had been diagnosed with breast cancer, but rather than making this announcement about herself, she turned the conversation onto the current problems that exist in the U.S. health care system and the need for universal health care. "1 in 8 women get breast cancer. Today, I'm the one," she tweeted. The good news is that I have the most glorious group of supportive and caring family and friends, and fantastic insurance through my union. The bad news is that not all women are so lucky, so let's fight all cancers and make universal health care a reality."
The way she revealed her diagnosis spoke volumes and shows exactly the type of person she is — she cares about others. In what has to be a scary time for the actress, she was thinking of others. Talk about a hero.
If that isn't enough, Louis-Dreyfus refuses to let breast cancer win. It's a battle she's fighting with every fiber of her being. She's also put a comedic spin on it, because she will not let the disease take away her sense of humor. In October, she gave a breast cancer update on Instagram, a photo of herself wearing a hoodie, sunglasses and a drawn-on mustache. The caption read, "We are NOT fucking around here. 'I've got the eye of the tiger. The Fighter dancing through the fire cuz I am a champion and you're going to hear me ROAR,'" quoting Katy Perry.
The way she has helped change the conversation around breast cancer is inspiring, to say the least.
More: We Can't Watch Julia Louis-Dreyfus' Emmys Acceptance Speech Without Ugly-Crying
She never disappoints and continues to empower women, including myself, with every step she takes. Thank you, Julia.