Updated, Nov. 24, 2017, 7 a.m. PT: Uma Thurman has spoken.
Weeks after cryptically saying she was holding off on commenting on Harvey Weinstein and other powerful Hollywood men who have been accused of sexual misconduct in the past several months, Thurman posted a Thanksgiving message on Instagram including the harshest imaginable message for the disgraced exec.
"I am grateful today, to be alive, for all those I love, and for all those who have the courage to stand up for others," she wrote. "I said I was angry recently, and I have a few reasons, #metoo, in case you couldn't tell by the look on my face. I feel it's important to take your time, be fair, be exact, so… Happy Thanksgiving Everyone! (Except you Harvey, and all your wicked conspirators – I'm glad it's going slowly – you don't deserve a bullet)."

She then cryptically added, "Stay tuned," making us believe she has even more to say.
Thurman has worked with Weinstein on seven movie, including two of her most successful, Pulp Fiction and Kill Bill.
Original story:
Even though it may seem like it, not every woman in Hollywood has spoken out about the recent flood of sexual assault and harassment accusations that've taken down top players like Harvey Weinstein, Brett Ratner and Kevin Spacey. Some people are still holding back, but not forever.
More: Uma Thurman & Her Ex's Drawn-Out Custody Battle Comes to a Close
Uma Thurman was on the red carpet at the premiere of The Parisian Woman when Access Hollywood asked her about all these allegations. And Thurman certainly has some thoughts, but she's saving them for us to enjoy at a later date.
Uma Thurman's response when asked about the flood of sexual misconduct allegations….wow. pic.twitter.com/Sw5Br1GwFg

— Yashar Ali 🐘 (@yashar) November 4, 2017

"I find it commendable," she said of the women who have already spoken out, adding, "I don't have a tidy sound bite for you because I am not a child and I have learned that when I have spoken in anger, I usually regret the way I express myself. So I've been waiting to feel less angry, and when I'm ready, I'll say what I have to say."
More: Uma Thurman Attacked Online for Her "New Look," & It Needs to Stop (PHOTO)
Needless to say, all of us be like: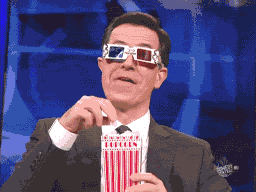 Thurman has something to say, and the internet is here for it without even knowing what it is yet.
Uma thurman has something to say – and I want to hear it https://t.co/HoVvV5cW8V

— Sara Just (@sarajust) November 4, 2017
Uma Thurman is all of us. https://t.co/QlakkNN1Dk

— Aditi (hot takes 4 koolkidz) (@awryaditi) November 4, 2017

https://twitter.com/lisang/status/926887972246622210?ref_src=twsrc%5Etfw
Uma Thurman saying "I'm not a child, and I've learned when I speak in anger…" is the lesson most twitter users need to hear tbh

— Becky B. (@bexbz) November 4, 2017
If you haven't seen this yet it seems Uma Thurman not only knows where the bodies are buried, but has neatly organized all the shovels. https://t.co/c9jmO5v1TM

— Robert Caruso (@robertcaruso) November 4, 2017
Dear #UmaThurman may peace be with you and your soul. We need your strong voice, it truly is commanding https://t.co/Wdom7pBEM4

— Asia Argento (@AsiaArgento) November 4, 2017
Plot idea for Kill Bill sequel: Uma Thurman murders everyone in Hollywood that has sexually assaulted someone. https://t.co/208XUeCWSc

— Alex (@AnxietyAlex) November 4, 2017

More: A Closer Look at Quentin Tarantino's Flawed but Fierce Female Characters
So, in review: Uma Thurman is going to speak on this. And we have ample warning and time to prepare for when that day happens. Get ready, fam. This is going to be good.