For 12 seasons, Jared Padalecki and Jensen Ackles have found fame hunting supernatural beings as Sam and Dean Winchester, respectively. They'll continue to do just that when The CW drama returns with Season 13 on Oct. 12.
More: Supernatural: 8 Badass Elements Wayward Daughters Would Bring to Television
Before the brand-new episode premieres, there's something we need to discuss — Supernatural isn't just a show for guys. Believe it or not, but I've heard it with my own ears that some individuals are under the impression that the long-running series seems like it would be more interesting to male viewers than female viewers.
Not only is that assumption laughable, but oh so wrong.
I could see how that might be a common misconception for those who aren't familiar with the series, especially since two extremely tough men are at the forefront — and they are pretty badass at getting the job done. But who's to say that a series about two manly brothers (who also aren't afraid to shed tears and express their emotions, I might add) is only for men to watch? Women can be interested in this particular genre and storyline too.
It's frustrating, to say the least, to hear Supernatural called "a guy's show," when that's so not the case — and here's the proof.
More: Why Supernatural's Claire and Alex Are the Next Sam and Dean
1. It has a lot of female viewers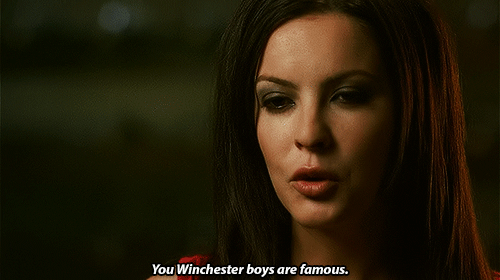 Personally, I know more women who watch Supernatural than men. According to an April 2010 article from TV by the Numbers, seven years ago, it had well more female viewers than male, ranging from the ages of 18 to 49. As The Daily Dot pointed out in June 2014, "The original expectation was that Supernatural's audience would be mixed, with male viewers engaging with the show's American Gods/Hellblazer concept. Instead, women and teen girls started watching in droves…"
In May 2014, io9's Mark Strauss reported that while attending a Supernatural Convention in Washington D.C., "…the ratio of women to men was, by my guesstimate, 80-20?" Strauss also wrote, "In fact, one attendee actually thanked me for showing up and demonstrating that the show does indeed have a contingent of viewers who are guys."
Also, while at the event, Strauss spoke with Katherine Larsen, a literary scholar at George Washington University. As she told Strauss, "For the first year or so, they didn't even realize that so many people who were watching the show were women. They were surprised, because they had guns and a cool car and classic rock — all of that was meant to bring in a male audience. So, surprise, surprise, it was women who were watching."
2. The female characters are powerhouses
I'll be the first to admit that Supernatural can do better when it comes to it's female characters — like by not killing off a lot of them.
Like most series, it certainly needs some improvement in this area; however, there are many admirable women that female viewers root for. Plus, most of the women featured on the show aren't there to be romantic interests for Sam or Dean, which is refreshing to say the least. They all have complex backgrounds and presented as both strong and vulnerable women. It's always nice to see multidimensional women when it comes to any type of storytelling.
These types of female characters on Supernatural are what keeps many female viewers coming back for more. What woman doesn't want to see powerful female characters kicking ass right alongside the show's two leading men?
3. The future of the show is female
In June, Deadline revealed that another Supernatural spinoff is in the works — and this time, one focusing solely on women. The spinoff is titled Wayward Sisters and involves fan-favorite Sheriff Jody Mills (Kim Rhodes). Its backdoor pilot is set to air during Episode 10 of Supernatural Season 13.
While chatting with TVLine in August, co-showrunner Andrew Dabb dished that the particular project will focus on Jody "and a group of troubled young women, all of them orphaned by supernatural tragedy, team[ing] up as a supreme monster-fighting force." In addition to Jody and a bunch of other new characters, Claire, Alex and Sheriff Donna Hanscum will also make appearances.
Here's hoping this spinoff finds more success than Supernatural: Bloodlines, because a similar series starring and about women is exactly what Supernatural's female fans deserve.
More: All Signs Point to Supernatural's Mary Being a Total Badass in Season 12
4. Women can relate to the content
Just because Supernatural is about two brothers doesn't mean women can't relate to Sam and Dean or the series as a whole.
The bond and love they have for one another as siblings is common among many individuals. Their experiences, like sometimes feeling trapped in a career or a life that you never really wanted or envisioned for yourself, are relatable to a lot of people, regardless of their gender. This can also be said for the relationships Sam and Dean have formed over the series. Whether it's with family, romantic interests or angelic and demonic beings, these connections are very familiar to women watching.
Obviously, when it comes to the female characters, well, who better to relate to them than other women tuning in? Let's not forget that Sam and Dean are hunters, not because of their father (like it was always assumed until Season 4), but because of their mom, Mary. She was the original hunting machine, and that's something women want to see on their televisions.
5. The 200th episode
Supernatural's 200th episode was a dedication to the fans. Guess what? The tribute was done in the shape of a musical by an all-girls school play telling the story of Sam and Dean. Padalecki told Entertainment Tonight in November 2014, "It's just so cool. The fans have been asking for a musical for many, many years. It was a nice to kind of give a salute to the fans and keep it true to Supernatural and true to Sam and Dean but give you what you wanted."
What better way to salute the fans (and all the teenage girls who adore the show) than by using a group of young girls? This is just further proof that Supernatural has a massive female fan base (of all ages) — and don't you forget it.
More: Supernatural May Have Just Unceremoniously Killed Off a Badass Character
Supernatural Season 13 premieres Thursday, Oct. 12 at 8/7c on The CW.