Kate McKinnon has risen to Saturday Night Live celebrity status over the past couple of years thanks to her amazing, hilarious, chameleonlike impressions. From rappers to politicians and even Justin Bieber, no celebrity is safe from McKinnon's humor. And thank God for that because it is oh-so-fun to watch her shine.
Vanity Fair recently ran a cover story on McKinnon proclaiming her to be "comedy's brightest star," and it's a pretty accurate description. Girl has got it going on. Not only is she still rockin' it at SNL, she's also got a ton of movies in the works, including providing her delightful voice as Ms. Frizzle in the animated film The Magic School Bus Rides Again.
More: The Women of SNL Are Killing It This Season, and These Sketches Prove It
Because it's never a bad time for a good laugh, we've rounded up McKinnon's best celebrity impressions to help get you through your day.
1. Hillary Clinton
On impersonating Clinton, McKinnon told Vanity Fair, "I love doing impressions of politicians because the task is always to imagine the private lives of these people whose job it is to project an image of staunch, unflinching leadership and grace, and that's just not how human beings, in their heart of hearts, work. In doing that for Hillary Clinton, who I admire so much, I started to feel very close to her, just trying to imagine her inner life."
2. Ellen DeGeneres
I love Ellen. I love McKinnon. Combining the two? Mind. Explosion. Of. Obsession.
3. Jeff Sessions
At the start of the new presidential administration in 2017, McKinnon began appearing on SNL as Jeff Sessions. Whether she was recreating his testimony or volleying with Melissa McCarthy as Sean Spicer, her impression of the attorney general is not to be missed.
4. Justin Bieber
In 2015, McKinnon won our hearts because 2015 was the year she become Justin Bieber in Calvin Klein. Oh how I love this sketch. I could go on about the greatness, but it's probably best if you just watch.

More: 17 Melissa McCarthy One-liners That'll Have You Spitting Out Your Drink
5. Kellyanne Conway
Oh, who didn't love McKinnon taking on Conway? In the midst of the political ridiculousness, McKinnon's impression was just the comedic relief we all craved and needed. Even Conway herself applauded McKinnon for her portrayal.
6. Elizabeth Warren
Kate McKinnon won the Twitter fan award for SNL MVP after her Warren portrayal in February 2017.
7. Jessa, aka Jemima Kirke from Girls
Who knew McKinnon could do so well as a plucky Brit? Well, we all do now thanks to her impression of Jessa from Girls. Get ready to laugh all the tears.
8. Carol Aird, aka Cate Blanchett from Carol
In honor of the Independent Spirit Awards, McKinnon flawlessly shivered without her gloves as Cate Blanchett in her 2016 hit Carol.
9. Ruth Bader Ginsburg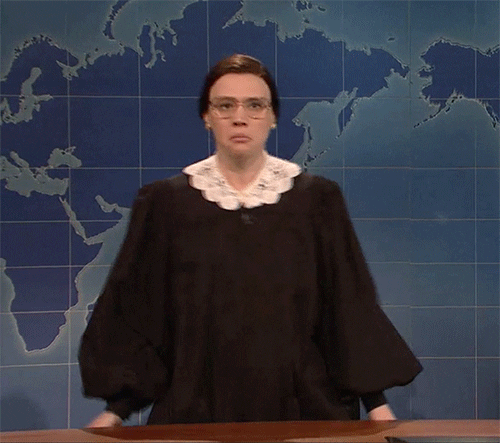 Is there any government figure McKinnon can't tackle? No. The answer is no. She proved her mastery yet again with her impression of Ruth Bader Ginsburg in 2016. In the skit, McKinnon as Ginsburg makes it clear that she won't retire under Donald Trump's presidency.

More: A Singing, Dancing Chris Pine Leads a Lighthearted SNL
10. Ilsa from Casablanca
Yaaaas, queen! It didn't hurt that J.K. Simmons was there to back her up as Rick.
11. Iggy Azalea
Kate McKinnon isn't just a talented comedian. She's also got a great voice. But rapping? And rapping almost as well as Azalea herself? Well, color me impressed.
Which Kate McKinnon impression was your favorite?