Probably when someone announces that they're expecting a baby, they should be the most excited person about the news. That may not be true in this case, because Aaron Paul and his perfect, perfect wife just announced on Instagram that their first baby is on the way, and we cannot. Can. Not.
More: I didn't dream of visiting Boise, Idaho, until I saw Aaron Paul's home on Airbnb
Basically us right now: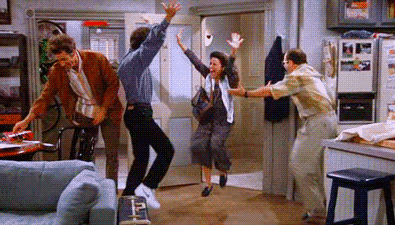 Paul made the big announcement by posting a pic of his wifey on Instagram, showing off her tiny yet adorable baby bump in a pair of high-waisted satin pants and a cropped blouse.
"Hey everyone. Look what I did. Words can't express how excited I am that this little one has entered our lives. Just thought it was time I would share this beautiful news with all of you," he wrote, along with emojis of a red heart and a baby.
More: 7 Adorable Things Aaron Paul Has Done for His Wife, Lauren
In less than an hour, the photo picked up nearly 150,000 likes and thousands of comments congratulating the Breaking Bad actor and his wife on their exciting news.
Lauren Paul also shared the news on her own Instagram, writing, "Oh hi," alongside a photo collage showing her and her husband as kids, plus an ultrasound photo.
This will be the Pauls' first baby. They've been married for four years, but last summer, Aaron Paul told People magazine that they weren't really thinking about starting a family quite yet.
"There's no rush into anything," he said. "So if it happens, it happens."
More: Aaron Paul Proves He's Cooler than Jesse Pinkman in New Q&A (EXCLUSIVE)
Well, it's happening, and we can't wait to see these two as parents. Congratulations to the parents-to-be!