Our favorite opalescent tree shark, who turns 46 on Sept. 16, has been dazzling all of us with her strong feminist views, inspiring humanitarianism and hilarious wit for almost 20 years, and we couldn't be more grateful. From her work on Saturday Night Live and Parks and Recreation, to her totally #goals friendship with Tina Fey and her direct involvement in beloved TV shows like Broad City and Difficult People, Poehler has brightened the lives of everyone with whom she's crossed paths.
More: Amy Poehler's 25 Most Important Life Lessons You Need to Know
So, to thank the woman who's graced our TV and movie screens with some of the funniest and most powerful female characters out there, we've gathered up some of Poehler's best and most hilarious moments throughout her career so far.
Parks and Recreation
This list would be absolutely nothing if we didn't include a few of Poehler's best moments as the iconic civil servant Leslie Knope. Nothing will compare to this early moment in the series when Leslie takes the blame for accidentally shooting Ron Swanson on a hunting trip.
Or when she was haunted by some phallic graffiti she had to remove.
Mean Girls
She's not a regular mom; she's a cool mom! Poehler's role as Regina George's bubbly, trying-to-be-one-of-the-girls mother is one to remember. We'll never forget this moment when she was surprisingly progressive in how she would deal with her daughter and her friends drinking alcohol.

And, of course, her amazing dance moves during the Plastics' "Jingle Bell Rock" number.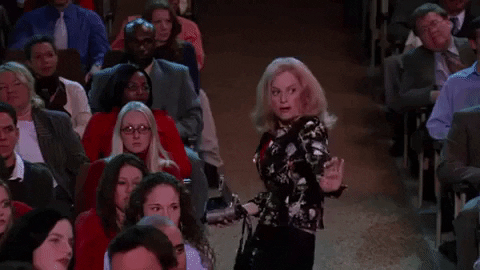 All of her interviews with Jimmy Fallon
These former SNL cast members and Weekend Update hosts continue to shine together on screen, even when Poehler is just a guest on Fallon's late-night talk show. I'm honestly still laughing at her story about her oldest son being a little sociopathic.
More: Amy Poehler Shames Execs for Contributing to Parenting Double Standards
Her amazing friendship with Tina Fey
Honestly, is there a more iconic lady duo out there right now? Poehler and Fey have been working together since their days with the Upright Citizens Brigade in New York City, and their chemistry and personal relationship have only gotten stronger over the years. From their years on SNL to their work on hit movies like Baby Mama and Sisters, these ladies are the purest example of what a strong, supportive female friendship can be.
Also, they were the best hosts the Golden Globes will ever have. End of story.

More: The Best Female BFFs in Film & TV
Saturday Night Live
Poehler was a cast member on SNL for seven years, and in that time, she created a huge roster of hilarious characters. Take, for example, Betty Caruso from the popular Bronx Beat sketch.
And who can forget the time she was eight months pregnant and did an amazing rap about being Sarah Palin on Weekend Update?
Also, her Hillary Clinton impression was hands-down the best SNL has ever seen, especially during the 2008 election. But we love you too, Kate McKinnon!
More: Amy Poehler Made Us Rethink How We Treat Ourselves & Other Women
We hope you have an amazing birthday, you rainbow-infused space unicorn, Amy!